Blencowe Families' Association Newsletter
Vol. 16 No. 3 Autumn 2001
A Change of Venue, a Change of Format
In the last issue Helen Simpson signed off after writing, editing and publishing our quarterly Newsletter for fifteen years. She has seen the Families' Association grow from a group of American Blincoes descended from 'the Immigrant James' to embrace a broader membership spelling our names in other ways and living in other parts of the world. I am sure that all of you who have enjoyed reading the Newsletter in past years will wish to join me in thanking Helen and ~ of course ~ her husband Bob for all their work.
Helen's decision to take a rest from editing the Newsletter coincided with a sharp rise in the cost of its production. Meanwhile, here in England costs have fallen and it is possible to produce a small booklet with better picture reproduction at a lower cost. We hope to be able to maintain the annual subscription at $8.00 a year in North America. Lower mailing cost within U.K. should allow a reduced subscription of £3.00 and, as an experiment, we will try A$15.00 in Australia.
Jack Blencowe,
Oxford U.K.
September 2001
Contents
An African Slave buried in an English Churchyard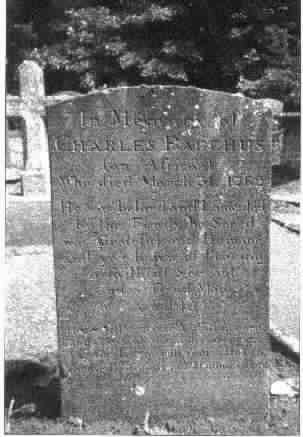 During a visit to Blencowe memorials in the village Church at Culworth in Northamptonshire Peter and Jack Blencowe discovered the gravestone of Charles Bacchus 'an African' who had died in 1762. Located in a place of honour alongside the Church entrance, the memorial recorded his passing with affection; he had probably served the D'Anvers family, the most prominent in the village at that time.
The Ellises of Virginia re-establish links with cousins in Chicago and Minnesota
Gary Ellis descends from James Blincoe, the first recorded member of our clan who lived in Maryland around 1670. Gary and his Ellis and Kloman cousins in Virgnia had lost touch with relatives they knew had moved to Chicago one or two generations ago. He recounts how he tracked down Steinhuaer and O'Donnell cousins in Chicago; meanwhile a Blincoe cousin in Minnesota found him by way of this web site. Family members met up in person at the Association's Reuinion at Williamsburg VA last June.
Another Recipe from Lady Anne Blencowe's 18thC Cookbook
Daphne Austin has found another recipe from the cookbook that could be tried out today. Bombard Apples are made by taking the core out of the apples, stuffing them with dried apricots, cooking them inside puff pastry then coating all with sugar icing. Something for the kids to enjoy at Christmas?
Book News
A pallet-load of the 'Blencowe Book' weighing half-a-tonne went by air freight to Bill Blenko in West Virginia and he is handling the chore of distributing them within North America. A large number of packages has been mailed in UK, including some to Australia. Meanwhile a more pleasant way of distributing them has been by way of several family gatherings. Thelargest was at the Village Hall at Marston St. Lawrence, another at a pub near Gloucester, and yet another in the East Midlands where we meet at a pub run by one of our members. This was good fun and a number of folks who had only communicated by mail or over the Internet enjoyed meeting face- to-face.
Milestones
Nola Olson reported that her father Oscar Blencoe had died peacefully at his Wisconsin home, in his ninety-fifth year. Oscar was the oldest surviving member of Wisconsin branch of our family who emigrated there from the village of Gawcott near Buckingham in England. The family is probably unique in North America in its use of the 'Blencoe' spelling variant.
Letters
John Blenko, who lives in Kent, UK, wrote telling how, until he had made contact with the Association, he had thought his name with the 'enko' ending might be Ukrainian! Now he finds he has a number of relatives in the States!

Blencowe Families' Association Home Page
updated: 13 November 2001