| | |
| --- | --- |
| Blencowe Families' Association Newsletter | Vol. 20 No. 3 September 2005 |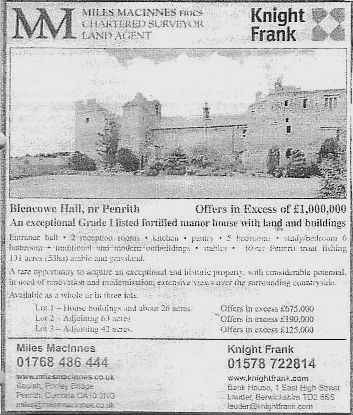 Blencowe Hall Sale Advert
BLENCOWE HALL OFFERS an enthralling prospect, nothing less than nursing back to life a fortified house that, outside at least, has hardly changed in four centuries. The name goes back further still, Adam de Blencow so distinguished himself serving under the Black Prince, probably at the Battle of Poitiers, that he was granted his own coat of arms by the Lord of neighbouring Greystoke, whom he had accompanied to France.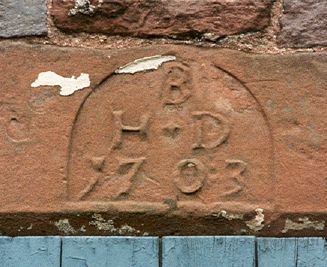 Certainly the open farming country, measured out by straight stone walls, makes a good setting for stout walls and battlements, Ullswater Fells and the Lake District are just a few miles to the west and on a clear day there are even longer views east to the Pennines,
The thrill of Blencowe is the superb masonry, with every stone telling through variations in shape, size and texture with soft reds blending into dove greys. Over many of the windows there are conspicuous `relieving` arches taking the weight off the straight stone window heads. Many of these are Tudor-style hood moulds with ball-shaped `stops` at the corners carved with basketwork or lozenges.
The main south front gives the impression of being curiously slid open to reveal a lower, more domestic house within. The explanation is that Blencowe has not one but two of the fortified Pele towers that are common in these parts. The first southeast tower on the right is dated to 1475.
The intervening range has the date 1590 over the entrance door in the courtyard and the initials and coat of arms of Henry Blencowe. Above are the words vivere mori, mori vitae (a cryptic Latin tag that can be roughly translated as 'live to die, dying is living'). This is held to relate to the words written by Lady Jane Grey to her sister on the night of her execution on February 12, 1554: 'Live still to die, that you may by death purchase eternal life.' It served as a subtle reminder that the Blencowes were related to Lady Jane Grey's husband, Lord Guildford Dudley, who was put to death alongside her at the Tower of London. Henry Blencowe was a man of local standing. He had married Grace, the sister of Sir Richard Sandford of Howgill Castle, across the border in Westmoreland. From James 1 he received a knighthood, serving twice as High Sheriff of Cumberland. To him is also attributed the southwest tower of 1620.
Both towers are now little more than shells. The southwest tower has a savage gash running from top to bottom of the kind that Cromwell and Richelieu left when they 'slighted' castles held by their enemies, ensuring that they could never be used again. This is a strong possibility at Blencowe as Parliamentary forces under General Lambert took Penrith in 1648 and detachments were sent out to take Rose and Greystoke Castles, which were both burnt. As Blencowe was on the way from Greystoke to Rose, and traces of artillery platforms have been found in the fields nearby, there is every chance that Cromwellians savaged it.
Ruin certainly set in early, for as long ago as 1840 a local historian, L.W. Jefferson, observed a 'picturesque' and 'luxuriant plane tree which had its root under the tower wall'. The last of the Blencowes, Henry Prescott BIencowe, sold the property in 1802 to the 11 th Duke of Norfolk who had earlier remodelled Greystoke Castle. For nearly two centuries it continued as a tenant farm until sold to the present vendors 17 years ago. The challenge at Blencowe is to bring these towers back into use. They potentially contain the best, and most interesting accommodation in the house. Even without floors or ceilings, fine stone doorways are visible as, well as several stone fireplaces suspended in mid air; though in the southeast tower a wooden floor remains beneath a corrugated roof (with handsome fireplaces peeping out above). Here there is also a fine spiral stone stair which could readily connect to the rest of house.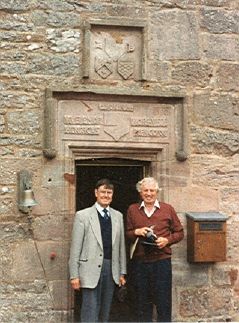 The entrance to Blencowe is, through an archway in the west-facing gatehouse wing. It opens into a courtyard once enclosed by buildings on four sides. An interesting detail is the two rows of sandstone tiles along the lower edge of roof with slates above. Only two ranges remain, with the former chapel on the north side announced by a twin-pointed arch window. Today it is just a rough cattle shelter.
The farm is still tenanted and Blencowe is offered for sale for, £1 million, with 125 acres, or for £675,000 with 25 acres. There are modern farm buildings to the north, partly shielded by a fine L-shaped range of stone barns with a date of 1703, and a duck pond in front. The barns have airing slits instead of windows (as well as clay drainpipes set into the masonry for further ventilation). Any alterations need to be made very carefully: A Knight Frank representative says that residential conversion would be contrary to planning policy, but that holiday lets might be a possibility. But for anyone wanting outbuildings, whether as studios, workshops or for a collection of vintage cars, they have an immediate appeal. The present owners have kept horses. This is well drained limestone country with quite an incline - ideal for gallops.
The front door opens on to a 19th century stair with a large drawing room to the left, and an old kitchen with characteristic large arch on the right. On the first floor are three modest bedrooms in the south range and three more large but bare in the gatehouse range.
Potential purchasers of this romantic place have a choice. Embarking on a full programme of careful repair and reconstruction could take two years and cost £1 million or more. Anyone willing to do the work gradually could move in at once and adopt a hands-on approach, which would be immensely rewarding because every day would bring fresh discoveries. If ever patience is exhausted, a trout stream beckons in a wooded ravine just to the south of the house. And for a quick getaway Blencowe is only four miles from Penrith, the M6, and fast trains to London and Glasgow.
I have reprinted in full the article above by Marcus Binney from The Times of 16 September. There are historical inaccuracies (see Jill Dudbridge's~ contributions in our Blencowe book) but there are architectural details that I had not noticed when I visited. It should also be interesting for members who have not yet visited the ancestral home in Cumbria.
Whoever takes the place over faces a big challenge! Perhaps just finishing the modernising of the central home would be more practical than tackling the ruined towers!

updated: 15 March 2006