| | |
| --- | --- |
| Blencowe Families' Association Newsletter | Vol. 22 No. 2 May 2007 |
THE BLENCOWE — ORIEL COLLEGE CONNECTION
With a guided tour of Oriel College, Oxford planned for the Monday afternoon of the July reunion; it would seem a good moment to remind readers of our family links with the college.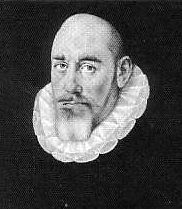 Anthony Blencowe : A portrait from Oriel College painted in 1601
Though a number of Blencowes have studied there, including Sir John Blencowe Kt of Marston in 1661, and indeed my father, our main link is with Anthony Blencowe, Provost of Oriel from 1574 to 1618. He was born circa 1642, probably at Blencow, Cumberland, a younger son of Anthony Blencowe and his wife Winifred Dudley. Anthony was admitted to Oriel in 1560, awarded his B.A. in 1563, and was made a fellow the following year. Entering the Church shortly after, he was appointed Canon of Wells Cathedral in 1566, and Chancellor of the Diocese of Chichester in 1590. Elected Provost of the college in 1574, he was to hold that post till his death, 44 years later, in 1618.
These years were a period of great change in the history of Oriel. One visible change that can be seen today is the redesigning of the buildings. As early as 1606 we read that timber belonging to the college was to be sold and the proceeds put aside for the rebuilding of the college. Anthony must have had the design very near his heart for, in his will, he left £1300 to the building fund. The actual operation was begun in 1619, the year after his death, and the whole college premises were completely renewed and were finally put into use in 1642.
There are a number of reminders of Anthony which I hope very much that we shall be able to view on our tour. First there is a striking oil portrait of him, painted in 1601, which hangs in the Provost's dining room. Outside the dining room door there is a stained glass window with his portrait in one small pane, sadly rather cracked. In the main college dining hall, where nearly 100 family members dined in the reunion of 1993, the Blencowe coat of arms shares a stained glass window with the arms of Walter Raleigh, also a member of Oriel, and Anthony's nephew, John Tolson, who later became Provost. There is also a nineteenth century portrait window in the college chapel, based on the 1601 portrait, and finally the Blencowe coat of arms is carved in stone above the main entrance to the college. Our thanks to Oriel College, in advance, for giving us this tour which should be of great interest.
Peter Blencowe
Walderton

updated: 10 September 2007