A Successful Endeavour in a New Land
Alfred Blinco 1838-1913 and Marian Dianah Langton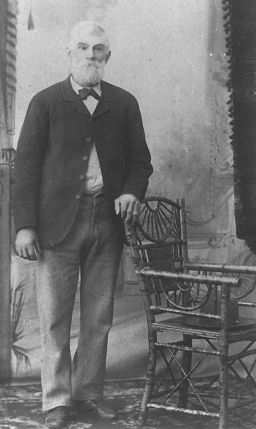 Boisterous weather with violent storms greeted the sailing ship "General Hewitt" when it arrived in Moreton Bay on the 23rd December 1854. The ship had been at sea for 107 days after leaving Southampton on the 25th August. Because of the weather, the weary passengers were held at the bar of the Brisbane River for another week, along with several other ships.
Eighteen year old Alfred Blinco was among these 381 passengers. His name was spelt as Blenco on the shipping list. There are many different spellings of the name, from Blencowe to Blinkoe, though recent DNA evidence has proved that most are related. Alfred was born in Buckinghamshire to Elizabeth, the second wife of Thomas Blinco of Hedgerley. He was the tenth of eleven children to Thomas. His mother had died before he left home.
The Industrial Age had begun in mid-Victorian England and poor uneducated people were often obliged to work in factories with very bad conditions and minimal wages. Therefore, it was not surprising that young men with poor prospects in the country of their birth decided to set out for the Colonies.
Alfred had signed Bans under the Assisted Immigration Act to repay his passage by "taking service". He came here as an agricultural laborer and needed to get work as soon as possible. He was strong and healthy with a sandy complexion, blue eyes and brown hair and could read but not write. Not long after arrival, Alfred, his friend Joseph Harding and five single shipmates were engaged to work on Normanby Station outside Ipswich.
By April 1858, Alfred was working as a carpenter on Rosalie Plains Station, on the Darling Downs and earning £2 a week. Rosalie Plains was owned by William Kent and Edward Weinholt. They also owned Lagoon Creek and Cooyar Stations. Kent and Weinholt had leased the main station Jondaryan and eventually purchased it in 1863. Its name was first registered in 1842. The first sheep had arrived in 1843 and were descendants of John Macarthur's famous merino flocks.
Between 1858 and 1870, Alfred worked on all stations except Lagoon Creek. It seems highly likely that he would have worked on construction of the present day woolshed on Jondaryan, which began in 1859. It had a canvas roof until a new invention; "galvanised roofing" arrived from England. The sheets had been rolled by hand. Construction was completed in 1861. It was 91 metres long & had 52 shearing stands. It could handle the shearing of 3,000 sheep at a time & cost £3000 to build.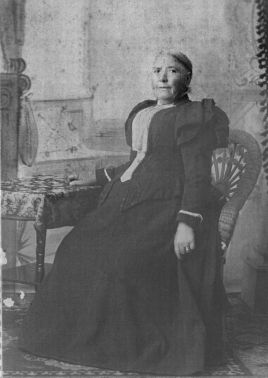 Marian Dinah Langton had sailed into Melbourne on the "Castilian" on 11 June 1857. She had travelled from England with her married sister, Elizabeth and husband George Quainton. Marion arrived on Cooyar in 1858 where she worked as a laundress. The rest of Marian's family arrived in Moreton Bay on the "Shackamaxon" on 24 November 1858. Her parents were working on Rosalie Plains by the 13 December 1859
It was at Cooyar that Marian met Alfred. They were married in St. Luke's Church of England, Toowoomba, on 4 December 1861. All members of the wedding party signed with a cross. The couple went back to Cooyar, where their first son, Thomas arrived in November 1861. Emily Caroline, their first daughter, was born on Rosalie Plains in December 1862 and James and his still-born twin, on Jondaryan in May 1864. The family left Jondaryan in 1865 and moved to the two-bedroom house, which Alfred had built for his bride, in Gowrie Rd., Toowoomba. The house was called "Brompton" after the house in England where Marian was born. Alfred continued to return to Jondaryan for the shearing season every year for the following 6 years.
It was in 1863 that Alfred received a Grant of land of 57 acres for £57 at Purga on the road between Ipswich and Warwick and it was sold again in April 1865.He seemed to be trading in land and family lore has it that he owned a lot of land in Newtown, a Toowoomba suburb, later in life.
Alfred and Marian went on to have another 9 children at "Brompton". Charles was born in 1865, George in 1868, John in 1869, Louisa in 1872, Emma in 1874, Rose in 1875, Jane in 1878, Lucy in 1880 and Marian Dinah, in 1881. Many of the grandchildren were also born at "Brompton", often with Marian being the person in attendance. During this time, Marian, who was a strong robust woman, looked after her own children and ran a public laundry from the house. She was known widely and her many friends valued her greatly. Her daughters often helped her with the work in the laundry
Before the turn of the century, some of the Blinco boys, spearheaded by Thomas, owned and ran a saw mill at Crows Nest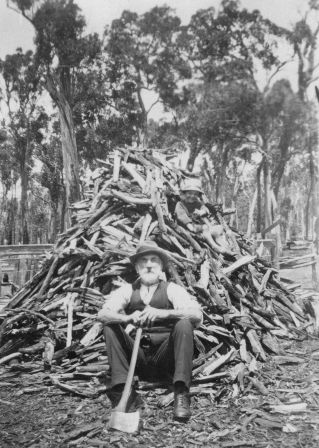 Alfred in front of an enormous pile of chopped wood, with a small child sitting on top. Perhaps, that was Alfred's contribution to this enterprise.
On the 19 August 1867 Alfred was released from the Toowoomba Jail. He had served one month with hard labour, for "illegally working a horse". On his release papers it was noted he had 3 broken fingers on his left hand and was missing two front teeth. About that time he had a registered cattle brand Reg No 1926/7 to Brompton Farm Toowoomba as well as a horse brand AB36 with a cross over the AB.
In 1880 Alfred was appointed a Member of Committees to the State school at Gowrie Rd and in 1886 he had a Hardwood license and was probably involved in the sawmilling industry with his sons. He may also have worked for the railway cutting sleepers as well.
Alfred was widely known as something of an inventive genius, as well as an artist and wood carver. He carved an endless chain, and an anchor and chain, each out of a single piece of wood. He painted pictures of the "Gatton Murders", "The Sun Moon and Stars" and "Windsor Castle" and also made a model of a ship in a glass case as well as a revolving model of the Sun, Moon and Stars. He was also reported to be inordinately proud of a rather original clock he constructed, and he was known to be very handy with machinery. He even made his own coffin.
He then showed his talent as a sculptor when he carved a tombstone from sandstone for his youngest child, Marian Dinah, after her untimely death. Both Marian and Alfred were devastated when she died, at the age of seven, from epilepsy, which she had had since her birth. The tombstone is topped by a hand holding the broken stem of a rose bud, to indicate the death of a young girl. Both Marian and Alfred are also buried under this tombstone in the Toowoomba and Drayton Cemetery.
Marian died on 3 March 1900. She had broken a rib in an accident some time earlier and appeared to recover; however, she developed pneumonia and heart failure and died as a result. Her death came as a shock to her family as well as everyone who knew her. Alfred was living at Tor Street, Toowoomba in 1903 and he died on the 1 September 1913. He had been in a coma after an earlier stroke.
This energetic and enterprising couple had 95 grandchildren and they undoubtedly made a great contribution to their new land, which became the State of Queensland. In 1980, when a Blinco/King family reunion was held in Crow's Nest, Queensland, there were thought to be over 1000 Blinco descendants. Then in 2008, at a reunion of the Blencowe Families Association in Port Macquarie, the Darling Downs Blincos were purported to number over 2,000 and were represented by some very successful, interesting and informed people, all keen to continue and develop the family connections Alfred and Marian had begun over 150 years ago.
External References
Immigration Notes, Queensland Library
Moreton Bay Courier. Queensland Library
Queensland Government Gazette
Shipping lists, Queensland Archives
Obituaries: Q'land Times Darling Downs Gazette
Birth, Marriage and Death certificates
Jondaryan records
Helen-Mary Blake collaborating with Lynette Cooper & Beryl Grunwald of Queensland, Australia
updated: 4 August 2009