LIKE FATHER - LIKE SON or the TALE OF TWO WILLIAMS
There is a chapter in The Blencowe Families book on the 'Assisted emigration from Bicester in 1830'. This article will alter the end of it. Under the subtitle 'The emigrants who stayed at home' preparations had been made for 111 people to travel to the Port at Liverpool but only 105 of the 111 turned up. After extensive research Jack located the dropouts who may have in time rued their decision to stay home!
A list of persons named Blencowe who had immigrated into the United States by sea included six who supposedly had entered the country via New York in 1830:
| | |
| --- | --- |
| James Blencowe | age 23 years |
| Elizabeth Blencowe (nee Parker) | 22 years |
| George Blencowe | 3 years |
| William Blencowe | 26 years |
| Hannah Blencowe (nee Parker) | 23 years |
| Eliza Blencowe | 3 years |
The coincidence of age, names of spouse and children makes the identifications a reasonable certainty. The problem was that, if they had gone to New York, they had certainly come back!
James and Elizabeth are to be found in the Census records of Bicester; James died there in 1886 and Elizabeth in 1875, they baptised five more children there – Alfred (1832), Hannah (1838), Eliza (1841), Jonas (1843) and Eliza (1846). George married and had six children of whom five were baptised in Bicester.
Hannah, who died in the Bicester cholera epidemic of 1832 aged 25 years, had two more children: William baptised on 11 July 1830 and Felix baptised on 25 March 1832, both in Bicester.
It seems highly likely the two families were the six persons who remained in (or returned to) Bicester. Hannah must have been heavily pregnant by that time for her son William was baptised in Bicester shortly after the emigrant party had left. Probably she could not face the journey and the two families decided to stay behind.
William Blencowe: the father: Convict No. 34/2153
A shepherd, William Blencowe, was tried at Oxford on 1 March 1834 for the theft of a coat; he was sentenced to transportation for fourteen years and sailed to New South Wales on the Henry Tanner and arrived on 26 October. The sentence seems to have been particularly severe, even by the standards of the time, for William was reported at the trial to be a widower with two dependent children. However, he (and his brother James) had been in trouble before – in 1828 they had been fined twenty shillings, plus costs and damages, for stealing wood – and at his trial he was reported to have had a previous conviction with three months imprisonment. He appeared on the list of the N.S.W Convict Muster of' 1837 and on 12 December 1842 he was granted a Ticket of Leave in Parramatta; however, this was revoked (for drunkenness) and he was returned to a work gang until it was reissued 11 months later. A Ticket of Leave is like being on parole. It enabled him to gain employment and to own land as long as he stayed in the Mudgee District.
On 9th January 1851, William's Certificate of Freedom was signed and on 3rd March 1851 he was delivered to N.P. Bayly of Mudgee, NSW. His 14 year sentence had stretched to 17. As most convicts were content to live by the conditions of their Ticket of Leave, few bothered to apply for a Certificate of Freedom. William was able to submit a written application and pay a substantial fee. The only advantage and usual reason of having one was to leave NSW. A Ticket of Leave Passport would have granted that permission anyway.
William's years with Mr Bayly in Mudgee would have been pleasant working as a shepherd. Nicholas Paget Bayly was an important person in the history of the Mudgee district. His father, Nicholas Bayly, was a quarrelsome officer in the NSW Corps who was descended from the English aristocracy, the Marquesses of Anglesey. Nicholas Paget was perhaps the greatest merino sheep breeder of C19th Australia and many stud flocks descend from his sheep. In the early 1830s he became the overseer for the Mudgee properties of Lt. William Lawson of Blaxland, Lawson and Wentworth fame to whom he was closely related by marriage. In the late 1840s he branched out on his own, acquiring a property called Havilah, where he bult a grand mansion which still exists.This is where William was employed and possibly spent the rest of his life.
Nicholas Paget Bayly died in 1879, a very wealthy man.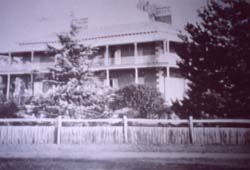 "Havilah" where William was employed and possibly spent the rest of his life.
I found no death record for William in Australia – did he die a lonely unrecorded death or return to England? There could be a twist!
In 1851, the year William gained his freedom, gold was found in quantity just south of the town. Soon the Mudgee area became popular with diggers, especially as there was water flowing all year with gold found everywhere in creeks, in the gullies, on top of the hills, and even deep down in the quartz areas. Although not as prolific as Victoria, there were a number of nuggets in the 100 plus ounce range that were dragged out around Mudgee. This continued for about 20 years.
William was a free man. Perhaps he left his employ with Mr Bayly, went gold digging, and returned to England as wealthy man!
William Blincoe: the son: Convict Number 5508
Meanwhile, back in England, who looked after William's small children? Did their and Uncle James and Aunt Elizabeth take them in which along with their own children would have been a struggle. Census records of 1841 showed 9 year old Felix in the Union Workhouse at Bicester.
To his credit, young William learned to read and write and grew up to work as a miner. However, he was caught housebreaking to steal clothes and sentenced at Worchester on 2nd July 1849 to 7 years transportation to Tasmania. His prison report for time spent in Dudly awaiting transportation was "very good."
He sailed from Plymouth on the Lady Montague on 9 August 1852 arriving Hobart, Tasmania on 9 December 1852. All 280 male convicts survived the trip showing the conditions after 64 years of transportation had greatly improved.
William spent 18 months in the notorious Port Arthur penal settlement. In 1854 he spent time working with Douglas River Coal Co., until given 7 days solitary confinement for misconduct in July 1854. In October 1854, William was given two months hard labour for being out after hours and disturbing the peace. He was recommended for Conditional Pardon 16 November 1854 which was not granted until 10 July 1855.
William Blincoe, aged 24 yrs, was married on 4 February 1856 in Tasmania to Dorothy Ann Collis. They had two children, William Felix born on 2 July 1857 in Hobart and Catherine Amelia on 6 December1858. Young William Felix died on 7 January 1858. Sadly William also died in Tasmania on 16 January 1859, aged 27. Dorothy remarried to Eli Round on 26 Feb 1860 and had various other children.
Catherine Amelia Blincoe took on her stepfather's surname of Round and married William Harrison on 26 December, 1876. I have found only one child to the marriage, William George Harrison born 12 October 1877.
One likes to think that William Senior made the trip to Tasmania to visit his son, but in reality he probably did not know William junior was also a convict. Perhaps fate would have treated the family more kindly if Hannah had felt able to face the voyage to North America.
We do not have Police mug shots of these convicts but following are the descriptions from their records. These descriptions were to help police spot runaways.
| | | |
| --- | --- | --- |
| Name | William Blencowe | William Blincoe |
| Sentence | 14 years transportation to NSW | 7 years transportation to Tasmania |
| Arrived in Colony | 26 October 1834 | 9 December 1852. |
| Height | 5 feet 8 inches | 5 feet 3 inches |
| Complexion | Dark | Sallow |
| Hair | Brown | Light |
| Eyes | Hazel | Grey and small |
| General remarks | Lost canine tooth right side of upper jaw, dimple in chin, small scar left cheek, scar back of the lower part of right arm, two scars back of left thumb and scar on the right shin. | Whiskers - none, visage oval, forehead low, eyebrows brown, nose, mouth and chin medium. Prison report good. Can read and write |
Thank you to Jack Blencowe for permission to use much of pages 290-291 of The Book; this article changes page 291.Thanks to Kevin Gibson for obtaining the Williams' records and Phil Bailey for deciphering them. Anne