Joseph Dryden Blinco 1912-1968
Joseph Dryden Blinco was born in Whitehaven Cumberland, in 1912. Reared in poverty in a godless, mining home, his mother's dramatic conversion brought about a spiritual awakening. Spending a formative period at Cliff College, he was retained as a staff evangelist and his gifts were so marked that, on offering for the ministry he was designated as a "Home Immediate". Conference appointed him to the single station of rural Kingsbrompton, where he lived with his wife and three children in "rooms" -- and the work prospered.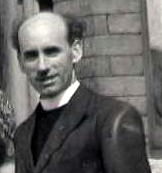 Rev. Joseph Dryden Blinco in 1944
Despite the blackout and blitzes, an equally successful phase followed in a down-town church in Manchester's Hulme and Whalley Range Circuit. J Oliver Hornibrook then sent him to the Southampton Central Hall (after a decision had been made to close it) and, residing over the premises, the missioner saw the cause revived. London's Archway Central Hall was his next sphere of labour and he brought many excellent schemes to fruition and assisted in the organisation of the memorable Billy Graham 1954 Harringey Crusade.
Twelve months later he joined the Graham team as an associate evangelist. Thrilling years followed and he developed into one of the best known soul winners in the world. His beautiful life (in which were blended a fine mind, quick wit, exuberant, lovable nature and a prayerful concern for others) was consistent with his powerfully spoken advocacy. It inspired the writing of George Beverley Shea's gospel song "The wonder of it all".
In the summer of 1966 he became Director of the Forest Home Churches Conference Centre in California. A promising beginning was marred by the discovery he was suffering from an incurable disease. Yet never did his faith shine more brightly. Dr Graham said on his last visit "Joe, I'll see you in the morning just inside the Eastern Gate" "Praise the Lord" came the reply, "I'll be there!" He passed triumphantly away at 4 a.m. on Sunday 9th June 1968, in the fifty-sixth year of his age and the twenty-eighth of his ministry.
Obituary from the Minutes of the Methodist Conference 1969
David Jackson, Cumbria, England
Our older Australian members will remember that in May 1959 Billy Graham, the American Evangelist, and the Rev. Joseph Blinco, the official evangelist of the British Methodist Conference, spent two weeks in Adelaide running a series of rallies and meetings. Eleven days of rallies conducted by Blinco were followed by three meetings at Wayville Showgrounds at which Graham spoke. It was estimated that 60,000 attended the first meeting at Wayville, and in total around 250,000 attended the various events. South Australian Methodists were heavily involved in the organising of the visit. For many individuals it was the greatest spiritual event of their lives.
Anne