Ruth Jenkins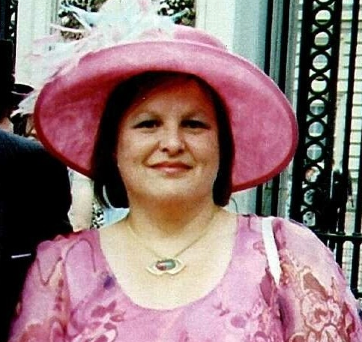 Ruth Jenkins has been one of our members for several years now. She descends from Louisa Blencowe of the Souldern twig of the Brackley branch.
We have come to know Ruth through her wonderfully well researched articles in the newsletter. As the Blencowe line back to Adam has been so thoroughly investigated and documented, Ruth decided to research the women who married into the Blencowe family, and started on a series of articles on "Blencowe Brides" and articles on Mary Waleston, Elizabeth Secole and Joan Light have been published in previous newsletters.
Ruth lives in Suffolk England with 3 children, husband and cats in a lovely old cottage. She qualified as a solicitor in 1985 and practises primarily in family law. Ruth has recently started to work part-time to find more time for her twin passions of textiles and family history - one of her great triumphs was finding an ancestress who was a medieval silk woman. Having enjoyed history since schooldays, she finds examining the past from the focus of an ancestor who lived through it is really most exciting. Having been trained in English land law, wills etc, she finds it relatively easy to winkle exciting facts and links from documents that survive. Ruth used handwritten eighteenth and nineteenth documents, as part of clients' title deeds in her earlier career, which stood her in good stead for deciphering wills and other documents at the National Archives. Ruth's knowledge of how our court system has traditionally worked has enabled her to make important links in other family lines. The phrasing of wills, conveyances, leases and indentures has remained remarkably constant.
With the upcoming reunion located in Cumbria, Ruth turned her attention to one of our earliest Blencowe Brides - Elizabeth Veteripont who is known to have mothered the Cumbrian Blencowes.
It rapidly became apparent that there was a wealth of information on her family which could not be confined to a mere article. When I read Ruth's work I encouraged her to take the project even further. What she has unearthed is fascinating reading and a wonderful insight into the life of our ancestors' pre-Adam.
Ruth now believes that the Northants Blencowes also descend from Elizabeth and her husband Thomas Blencowe, Adam's heir, rather than Adam's younger son, John - but you will have to read the book to find out why!! Elizabeth's family are bound up in the life of Cumbria at a very turbulent time in their history.
Although the exact scale and format of the project is yet to be decided, I hope Ruth will launch the book at the Reunion in Blencow in June. She is eagerly awaiting the chance to visit the area of her research and see some of the places that our ancestors owned including a silver mine!
Anne Burton
updated: 9 October 2010