Further Reflections on the Reunion in Blencow
I am a member of the extended Blencowe family by virtue of my marriage to Mary Janet "Bean" Blencowe Murray. Visiting the town of Blencow and the surrounding area and meeting all the cousins from so many places was a genuine pleasure. Family members and the people from the local area were pleasant and easy going. It was easy to see that the current Blencowe family members from abroad would fit in comfortably with the residents of Blencow and Cumbria. Bean and I would like to return there someday just to be among them again.
Paul Murray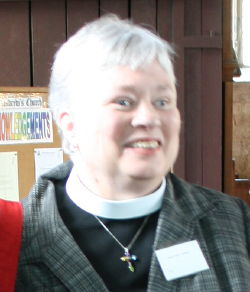 It was a thrill to meet so many cousins since I had only two Blencowe cousins until the BFA. We've had a painting of Blencowe Hall in my home since my mother had one done for me from a photograph my Uncle Tom and Aunt Frances Blencowe took when they "found" the Hall more than 30 years ago.
It was wonderful to actually be there.
In addition, as a clergy person, I can't tell you how special it was to participate in the service in ancient St. Andrew's in Greystoke where our ancestors worshipped so many centuries ago. Peter picked the perfect lesson, and as I stood there reading, I couldn't help but think how so many people from so many countries had originated from that one spot and one ancestor (and wife). How ironic that his name was Adam.
Having my daughter Cara and my son in law Heath with us made everything even more special. We all loved the people of Cumbria who were very welcoming and made us feel like we had found a second home.
Mary Janet "Bean" Blencowe Murray
Little Rock, Arkansas, USA
Watching the emotion on Bean's face as she read the lesson using Braille was a poignant moment in the Greystoke Service. Yes, Bean is blind and is a most amazing lady.
Anne
The way Bean expressed a depth of feeling and understanding into the words of Ecclesiastics 44 v 1-15, and her use of pauses between verses, was a lesson to all of us who may sometimes need to read aloud in public; a special moment of the Reunion.
Anna Blencowe
England
Eldest at the Reunion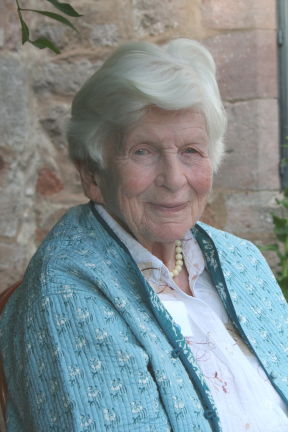 At 89, Ruth Courtney was the eldest person at the reunion. Ruth is a direct descendant of Sir John Blencowe and the Marston St Lawrence line. Ruth is the only daughter of Col. Edward Prowett Blencowe, the eldest son of Canon Alfred Blencowe — who also happens to be Peter Blencowe's Grandfather, making him and Ruth first cousins. Ruth accompanied her daughter, Stella Vanes to the reunion.
Web link to Reunion Photos
http://www.flicker.com/photos/blencowe_reunion
Thank you to Val Blencowe for sharing an excellent selection of photos on a website. Val shows quite an artistic flare with her photography and you will appreciate the opportunity to view inside shots of Blencow Hall. Her photos of Greystoke Castle, Dacre Church and Dalemain will bring back fond memories.