Update on 1911 Blencowe Family Census Study
Over the past months I have been completing a study of the Blencowe families recorded in the 1911 Census. The 1911 Census is relatively expensive to access fully so I have developed a way to use the free index information to arrive at what for most people is useful to pinpoint relatives and make some conclusions about the family and its movements. This has become the 1911 Blencowe Family Census Study and is held on a special website hosted by Google.
The document is still a work in progress but will be shortly available to BFA members as a free members benefit.
The format of the data that is recorded is tabular and sits up these headings: Surname First Name Status Sex Birth Yr Age District County.
While most headings are self explanatory two are worth a comment.
Surname: Gives us about 32 different versions of the Blencowe family name and while there some transcription errors like Blincon and Blencour there are quite clearly by 1911 with literacy now more universal a certainty of spellings of particular branches. Amongst many transcription errors is the reading of the cursive o at the end of Blinko and Blinco as an s, hence many new Blinks recorded. Where previous records or census handwriting shows it otherwise I have corrected these names in my database.
Status is an interesting new census field that defines by position to the head of the household the status of each individual. Some typical examples are: Son, Wife, Daughter Visitor and Boarder.
Family Groupings
I have used two methods to group families together; previous research and records plus the facility in the 1911 websites advanced search which permits identifying who is recorded in a household with an individual.
Here is an example of such groupings in Whitehaven Cumberland
In this sample, all the Blinco folk descend from a Thomas Blinco C.1839 who moved up from Middlesex. Thomas himself descended from William Blincko of Hedegerley.
The Blencowe's descend from a different line.
Households are shown in a box and so Ethel May Blinco is an individual sitting in another household. Further searching shows she is with her maternal grandparents of the Joyce family. I hope you can see how useful this is to identify new children, family movements etc.
I have also added a further three columns (not shown above) that denote, as far as my research goes, the oldest known ancestor of the grouping, so my previous example looks like this below.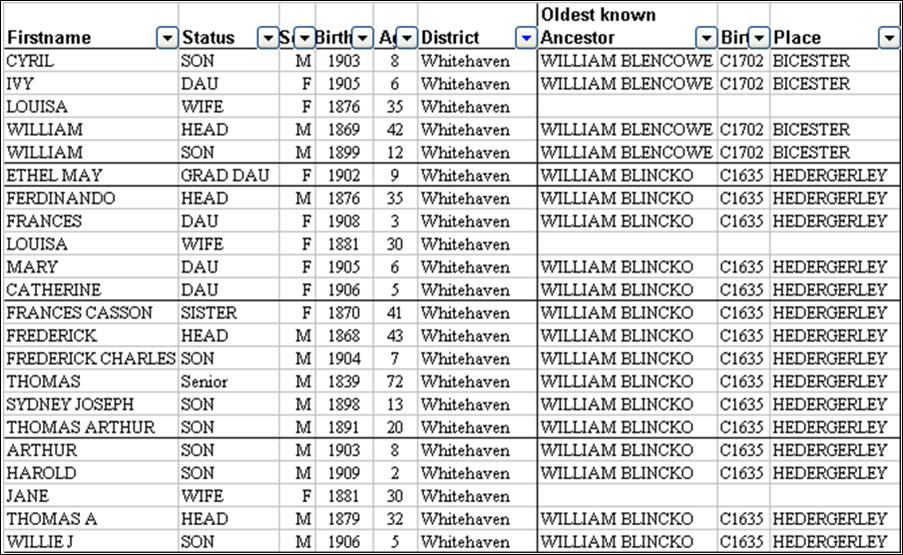 As previously mentioned, the Blencowe Family Census Study will be available to members in the near future and in the next newsletter I am hopeful to announce it is fully completed.
Roger Blinko,
Australia