A Notable Blencowe: Jill Dudbridge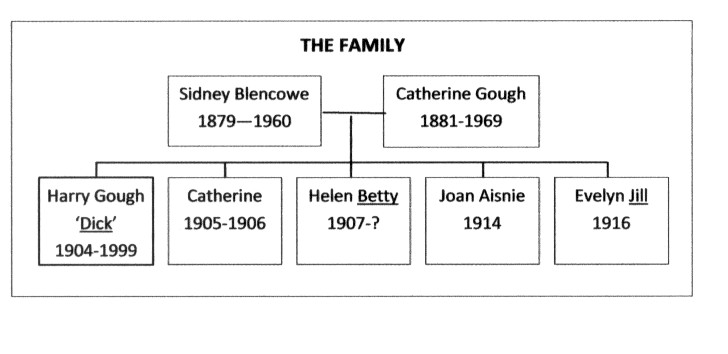 Evelyn Jill Blencowe was born in 1916, to Sidney Blencowe and Catherine Gough, the girl he had met at a dance for the Devizes Yeomanry. Returning from the Boer War in 1901, Sidney took a job in Portsmouth and they married in 1904.
Sidney, not content with his dull civil engineering job in England, sought travel and adventure, applying to work on the Buenos Aires Great Southern Railway (BAGS). He accepted a 6 months trial before sending for his wife Catherine and young family. It was a 30 year contact with 6 months leave every 5 years.
War was declared while the family was 'on leave' in England staying with Catherineís mother (Catherine Gough nee Schneider) in Wiltshire, and Joan was born. After Sidney returned to BA, his wife stayed behind until her baby was weaned. Leaving baby Joan with her grandmother and Dick (Harry) at a boarding school in Devon, it would be 5 years before Catherine would see these children again. Catherine and Betty (7 yrs) boarded the Highland Bray but the ship was captured by a German raider, the passengers taken onto the German vessel and the Highland Bray sunk. The passengers were treated kindly and finally deposited in BA.
Jill was born Temperley, Buenos Aires. Hers was an unusual childhood with her brother in England and her sisters taking turns to spend 5 year stints in England and BA. Dick rejoined the family in BA and being 12 years her senior, was more of a loving father to Jill than Sidney, who was often away on railway business and showed little interest or affection to his children when he was at home. Dick taught his sisters chess, introduced them to stamp collecting and was generally good fun.
Off to England
In 1932, at 15½, Jill travelled by herself on the cargo ship "La Paz" bound for boarding school in England. Much to the admiration of the crew, Jill swam around the whole ship while anchored in the bay off Las Palmas. After a brief stay with her aunt, Jill took herself to Bristol and enrolled at Redland High School.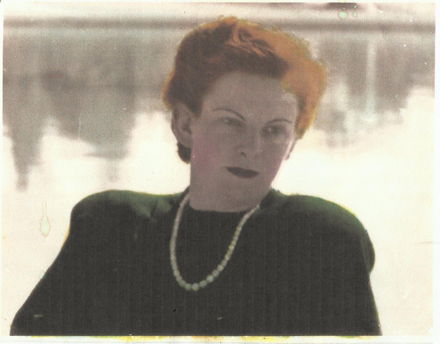 In 1933 Jill passed her School Certificate. Holidays were spent with Cousin Millie, a spinster Head Mistress in Wiltshire. Jill's schooldays effectively came to an end after developing Rheumatic Fever from not being allowed to change out of soaking wet clothes after a hockey game.
1934 saw the family back in Wiltshire, on 'home leave'. Dick returned to Columbia and Sidney and Catherine returned to BA alone, leaving Jill in England.
Jill got a job as an au pair with a Jewish family in London. It was an intriguing situation. The mother was having an affair with a gentleman in Bournemouth. On an extended visit to her lover she left Jill to look after her children and her husband. This was an awkward situation so Jill found rather wretched digs in Paddington and started nurses' training at Dulwich Hospital. That winter, the Rheumatic Fever returned with a vengeance and she was forced to return to Cousin Millie to recuperate. In 1935, when recovered, Jill returned to Argentina.
In 1936, at the completion of the BAGS contract, Sidney and Catherine decided to retire in England returning the long way round seeing as much as they could on the voyage. Thus began the journey of a lifetime! By ship and by land they explored all the sights from Mendoza to Santiago; Valparaiso to Lima. After passing through the Panama Canal Jill tasted her first Coca Cola in Panama. After docking at Swansea, 'The Cedars' at Beckington, between Frome and Bath became the family home.
The War Years
Although Jill took various jobs in the catering trade in London, she grew depressed and intensely disliked the cold English winter. She applied to the "British Women's Settlement League" which offered free passages and situations to females in Australia, Canada and South Africa. Instead Sidney arranged with BAG's, a job as Secretary to the Chief Accountant in Buenos Aires so Jill returned to Argentina, submarines or no submarines, in Oct. 1939.
In 1941, Jill joined the Patent Knitting Company with a 50% pay rise and travelling expenses to cover the daily journey of 1¾ hours each way. She could now rent her own small apartment. The Patent Knitting Company manufactured the stockinette bags that covered the meat exported to England.
In 1941 world events escalated, including Britain's "Darkest Hour." Women aged between 20 and 30 were included in the call-up to release men. Japan bombed Pearl Harbor. Male volunteers from Argentina were charged a mere £10 by the Royal Mail Line for their passage to Britain which was paid by the Patriotic Fund.
Sidney had mentioned the call up so when the Patriotic Fund extended their passage concession to women, Jill volunteered. The Company gave Jill and 15 other volunteers a grand Goodbye Party at the City Hotel in Buenos Aires. Jill embarked on the "Highland Patriot" to England. On board she met Bill Dudbridge, her future husband.
Jill joined the WAAF as a Radar Operator and was posted to Hastings, tracking aircraft on their way to bomb London. One occasion on her watch with 3 other operators, a signal of one slowly moving plane appeared on her screen not showing "IFF" (identification friend or foe). Jill hesitated to report it to the Canadian gunners on the sea front, as they had the reputation of being rather "trigger happy!" When a Supervisor questioned her action, Jill explained her doubt that it was an enemy plane and not one of ours "coming in on a wing and a prayer." At that moment a weak IFF signal came up which probably saved their lives. Jill's delay had given them just enough time to repair their damaged equipment.
After a year, Jill was posted to a Communication Course in London that entailed amongst other subjects stripping down a wireless set, sending and receiving by Morse code and cipher.
Jill and Bill were married on the 27th January 1944 at Caxton Hall Registry Office. They celebrated at the Savoy and spent the few daysí honeymoon in London. Jill was discharged from the WAAF under Clause Eleven (Pregnancy) and joined Bill in Chester. Sadly the baby was born dead.
India
In 1945 Bill received orders for Burma and celebrated VE day in Rangoon. Left on her own Jill joined Soldiers Sailors Air Force Families Association (SSAFA) volunteering her services in the nearest place to Bill ñ India.
Prior to sailing for India, SSAFA representatives were given the honorary rank of 'Captain' in case they were taken prisoners of war. However, Truman's decision to drop the H Bomb on Japan thankfully brought the war to an abrupt end.
In India, Jill acted as PA to the Head of SSAFA and with Bill transferring from Burma; the couple were once more together in their own bungalow in Bareilly. After the war, Jill was immediately discharged from SSAFA and Bill several months later. The couple travelled extensively throughout India and on one of these occasions Jill famously claims to have spent the night with Jawaharlal Nehru! They shared the same train sleeping compartment with him. He was feted when the train stopped at every station whilst Bill and Jill (in uniform) were jeered at by the throng of Nehru's followers.
After Bill's discharge they returned to 'Latmus', her parent's home in Devon.
Argentina
As Bill's pre-War employment had been held open for him, they returned to Argentina in 1946. When the beloved Eva Peron, Champion of the "Shirtless Ones," died at the age of 33, Jill queued for 17 hours before filing past Evita's open coffin.
The Argentine had provided Britain with meat on credit during the war. Unable to pay her debt with money, Britain gave up her ownership of the 5 British Railways to Argentina, bringing Bill's employment to an end.
Nicaragua
In 1954 Bill took a job in Nicaragua and Jill followed in 1955. With Bill at work Jill started a business with Eric Barron, importing spare parts for vehicles from England, Europe, Japan and the USA. The plentiful volcanic dust played havoc with clutch discs and other motor parts and business flourished. In 1969, when Armstrong took his first steps on the moon Jill ingeniously took a half-page advertisement in the local newspaper to advertise Armstrong's Shock absorbers:-
Armstrong first on the moon
Armstrong first in shock absorbers!
At 12.30 a.m. on 23rd December 1972 a devastating earthquake measuring 7.2 on the Richter Scale hit the area. Another episode in 1979 brought Bill and Jill to the realization that their future was not in Nicaragua. The Socialist/Communist Political Party, the Sandinistas, deposed the Dictator Somoza, leaving Jill and Bill wondering what life would be like under such a regime. They soon found out. One night, their business premises were burnt to the ground and although the Insurance Company had paid up for the earthquake damage, they would not pay out for "Civil War!" In all, Bill and Jill lost £100,000 overnight. However, orders in the pipeline came forward and they ran the business from home until suitable premises were found. So the business survived but the event had had its effect and they decided to sell the business to their British Honduran partner and retire to England.
Retirement in London
In 1981 they bought the lease on a beautiful flat in Darwin Court in London within walking distance of Regent's Park. Jill worked extensively on Blencowe Family History, researching at the British Library and other places, photocopying Wills, extracting information from Parish records and corresponding with numerous people. This interest had brought her in touch with such people as Jack & Peter Blencowe and Mike Walton. Mike translated the Latin and transcribed Jacobean and Carolian script. Much of our archived information is due to Jillís research. For pleasure, Jill & Bill travelled extensively in the UK, Europe, Egypt, USA & Canada.
In 2001 Jill was registered at Moorfields Hospital in London as Partially Sighted from Macular Degeneration and took part in their research, which consisted of donating blood to seek the offending gene. They were convinced that the condition was a genetic disability and, indeed, it seems that she has inherited the condition from a maternal Aunt.
After an eventful 58 years of happy marriage Bill passed away in 2002 aged 92.
Jill's life is far from dull. Old friends from Argentina call, as do her other relations and her nephews when they are home from Switzerland and Zimbabwe. Apart from her interest in all things Blencowe, Jill is completely au fait with politics and world events. Neither does her eye condition prevent her being the life and soul of the occasion when about 14 twiglets of our particular branch of the Blencowe family meet up at her flat and roll down to her local Trattoria to enjoy a meal accompanied by much hilarity.
From Jill's Story by Tricia Wales