A Notable Blencowe
Thomas Blinks: Victorian Sporting Artist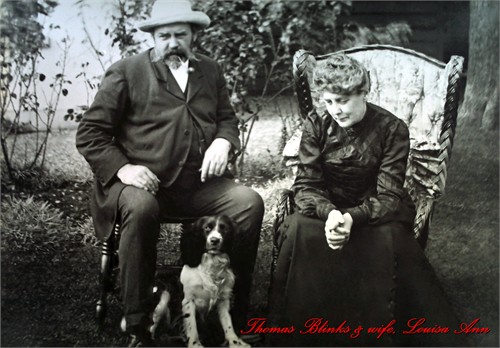 Richard Blinks (1821-1884) married Eleanor Poile (1821-1906) in Sept, 1850 in Tenterden, Kent. Richard was a butcher and had his shop and house in the Maidstone, Kent town centre where Thomas Blinks was born on 29 Oct, 1853 at 8 High Street.
By 1861 the family had moved to the Village butcher's shop in Ticehurst, East Sussex. The shop is still there today as the village butchers shop, now run by W J Crouch, Family butcher.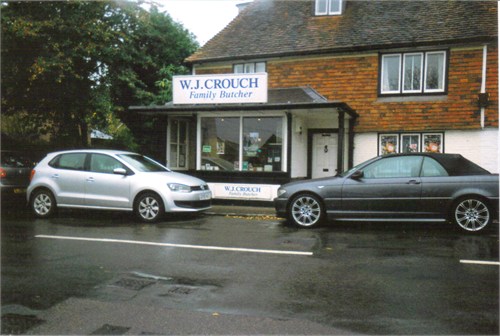 Thomas had one older brother, Richard (1851-1913) and two younger sisters, Matilda Jane (1854-1905) and Ellen (1860-1926). There is a family story that Thomas painted a large mural on one of the walls in the house. However, if it is actually there it must have been lost under several coats of paint by now.
No son of mine is going to paint pictures!
Thomas always wanted to be an artist. However, his father insisted that he learn a proper trade and would not allow this. There is a another family story that he ran away from home to Hurst Green, some five miles away to the home of my great, great grandfather, Thomas Blinks. Thomas also had a butchers shop. The story goes that my great grandfather, Albert Blinks 1845-1922, returned him home to Ticehurst in the delivery horse and cart.
Albert's daughter, Nellie Florence Blinks (1889-1975), told me that this was one of the main reasons that Thomas's father Richard finally gave in and let his son follow his dream. However, how much influence this had I'm not sure as Thomas is shown in the 1871 Census as working in his father's butcher's shop at the age of 17.
However, Thomas was recorded as working at a Draper's Shop in Rye, Sussex, nineteen miles away from Ticehurst on 11 Apr, 1874, the day he married Louisa Ann Winterbottom, (1851-1937), at the lovely Rye church.
In the 1881 Census Thomas and his family were living at 8 Lady Margaret Road, Saint Pancras, London with his profession shown as artist. Thomas, now 28, had probably made his own decision to become an Artist. A wise and successful decision! Thomas and Louisa had three children: a daughter, Tillie (1877-1974), Harry (1878-1942) and Alfred John L Blinks (1884-1905).
Harry married Maud Matilda Rossiter (1880-1949) who suffered so badly from arthritis that Harry emigrated to Caboolture in Queensland, Australia, for a warmer climate and founded an Australian dynasty of Blinks that are still there today.
Thomas painted hounds, hunting and steeple chasing scenes, dogs and shooting subjects. Although Blinks' paintings of shooting dogs at work now command high prices, he is not that well known despite the advantage of having many engravings published after his work. You only have to Google his name or search his name in Ebay to see the large number of prints that can be bought. One, The Shamrock, includes a self-portrait.
The youthful Tommy's art education seems to have been scanty. When asked in later life how he acquired an ability to paint horses, his pithy response was simply: "Tattersalls". He was referring to the horse sales that were conducted weekly and sometimes more frequently by the firm of Tattersalls, London at what is now known as Knightsbridge Green. Newly built in 1865, the premises remained in use until 1939 when the operation was concentrated at Newmarket.
Tommy Blinks, as he was known, demonstrated that he could paint hunting and hounds with enormous veracity and vigour. This was partly due to his fondness of hunting and shooting, another sport he depicted extremely well.
From 1883 until 1904, twenty-four of his paintings were shown at the Royal Academy - the early pictures were sent in from Kentish Town. After 1886, when he became well established, Tommy Blinks sent them in from 1 Hill Road, St John's Wood, his home in both the 1891 and 1901 Census. He was obviously doing well for himself as he also had a second home, a farmhouse in Levens Green, Great Munden, Ware, Hertfordshire.
Thomas Blinks was commissioned by King Edward VII to paint the dogs in a picture, which was a present for his wife, Queen Consort, Alexandra.

The picture now hangs over the main staircase at the Queen's home, the Sandringham Estate in Norfolk, England, UK, which is open to the public
Thomas Blinks died on the 29 December, 1910 at his St John's Wood, home. He passed away at the early age of 57 from Bright's disease. He was buried in the same grave as his son, Alfred, in Hendon Cemetery, North London. His wife Louisa outlived him and was buried in Buckinghamshire, where she had moved to live with their daughter, Tillie.
Although hunting scenes are maybe not as popular today as in his time, the world record for a Thomas Blinks picture, entitled "Waiting for the Guns", was broken on 24 June, 2007 at Christies in New York, USA. The hammer came down on a price of $564,000!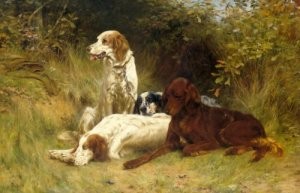 This suggests that Thomas Blinks is an artist who is going to remain as famous today as he was in Victorian times and possibly more so in the future.
We are certainly very proud to have Thomas Blinks in our Family.
Tom Blinks
East Sussex, UK