HAIR!
No. Not the Musical, but locks of hair from Blencowe ancestors and their friends.
Having inherited a box of hair specimens of my Marston Blencowe ancestors, all wrapped round with paper, I have been on the internet trying to find out about the Victorian custom of collecting locks of hair from family and friends who have recently died. I would guess that the specimens have not been opened for nearly 200 years and some even longer, so it was with some anticipation that I opened the box.
In America, hair collecting began to flourish in the Victorian period, when the famous were asked for locks of their hair rather than autographs. Today collectors jostle along at Sothebys and Christies for snippets of hair from celebrities, past and present. A strand of hair taken from Abraham Lincoln on his death bed is worth close on a million dollars if it were to be put on the market. However snippets of hair from George Washington, Beethoven, Chopin, Napoleon, John F Kennedy, Marilyn Munroe, Elvis Presley, John Lennon, would all sell for a fortune today, with provenance supported in some cases by DNA.
Sadly I found no famous names on the Marston packets of hair, so they wont be available on e-Bay! Most were attached with names that were unfamiliar to me, with dates of death, which suggests they were used as an announcement of the passing of the person. One, which says it all, I quote below.
"My dearest, much loved friend, Mrs Bugols hair. Who I had the unspeakable affliction to lose on the 7th of September 1799, and on the 11th of April 1802, her dear sister, Mrs H. Browne, died; such dear friends few were so happy to have. But they, alas, are no more! but can never die in my remembrance".
Two flowing switches of Gratia Maria Blencowe (nee Prowett), first wife of John Jackson Blencowe are the best examples of our family hair, and they can be seen on the photograph shown here. I also have miniatures of daughters of the Rev'd Thomas Blencowe of Marston, which also have platted hair enclosed on the back of them. Enclosing hair in rings was also a Victorian custom.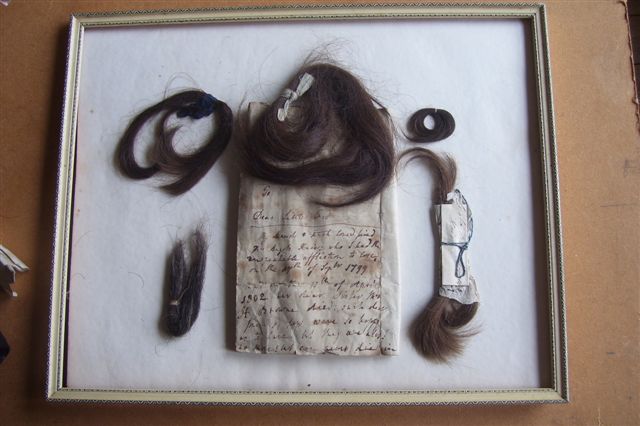 Some of the hair specimens
One surprise is that nearly all the snippets of hair are brown or a chestnut colour. Today, unless hair was dyed, most of us sport grey hair. But there are no examples of this. Can it be that hair was cut in youth and then stored until passed on? I have listed all the names for the hair specimens, so if anyone would like a copy of this for further research, please let me know, and I can send the complete list on to you.
Peter Blencowe
Walderton, UK