Our King's Lynn relatives leave their mark on the Minster.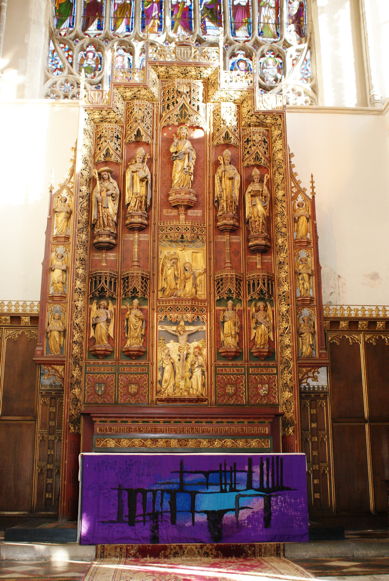 The Reredos of King's Lynn Minster
Many of our family visiting King's Lynn miss the reredos in the Minster. A reredos is a screen or decoration behind the altar in a church, usually depicting religious iconography or images.
When you enter the Minster, the monumental reredos is over 80 yards distant but dominates the vista. It is a truly stunning example of Victorian design and craftsmanship measuring over 27 feet high. Proposed as part of the program of Victorian restoration and made possible in 1899 by a bequest of £1,000 from Miss Margaret Blencowe.
In the later 16th century, the Church of England rediscovered the importance of the sacraments and so the altar, where the Eucharist is celebrated regained its centrality in ordering of churches.
The congregation faced the altar but the clear view was directed above it, hence the importance of the reredos. The great work of art enhanced the grandeur of the altar and gave focus to the devotion of the worshippers.
I'm not sure who Margaret Blencowe was but my guess is she was the daughter of John Prescott Blencowe and Pleasance Everard who had eleven children including Agnes (1818-1896), Margaret (1819-1898) and Rev. Edward Everard Blencowe B.A.
Miss Agnes Blencowe, sister of Rev. Blencowe, Vicar of West Walton, Wisbeach was an embroiderer of considerable skill, who in 1854 was involved in the founding of the Ladies Ecclesiastical Embroidery Society. Their aim was to supply altar cloths of a strictly ecclesiastical design by reproducing ancient examples and working under a competent architect.
A book of Embroidery Patterns compiled of Agnes' patterns is quite well known in certain circles and the BFA has been approached about from where it can be obtained.
When talking to the wife of the Vicar of Ely in 1991, she informed me that a Rev Blencowe had been once appointed there and had lived with his unmarried sister, who had produced fine embroidery. A sampler of hers was on display. I presume this was Agnes' work.
Margaret's contribution was to fund the redecoration of the Kings Lyn Minster. I know Agnes' work was in other churches in the Norfolk region as well.
Ref: 2014 article by Canon Chris Ivory
Fran Blinco, Lincolnshire, UK