Blencowe links to Royalty: King Edward IV
We seem to relate to Royalty via lots of different routes – interestingly, always via the wife of a Blencowe, not the Blencowe himself. This probably says a bit about what our Blencowe men sought in their wives in days gone by. If you descend from Sir John Blencowe and Lady Anne, nee Wallis, this will be one of your links to Royalty. In this case King Edward IV.
Research done by Louise Blencowe, UK
Please check the dates and people before adding them to your tree.
Lady Elizabeth Carew (nee Bryan), an English courtier, reputedly a mistress of Henry VIII. She married several times and it's quite possible married a man Thomas Welles. They had a son, Robert Thomas Wallis. Robert came from Finedon, Northamptonshire and he married an Alice Hunt in Brentwood, Essex in 1564. Together they had a son the Rev John Wallis who I believe was the father of Dr. John Wallis the Mathematician and grandfather to Lady Anne Blencowe.
The name changes from Welles to Wallis back in the early 16th and 15th century.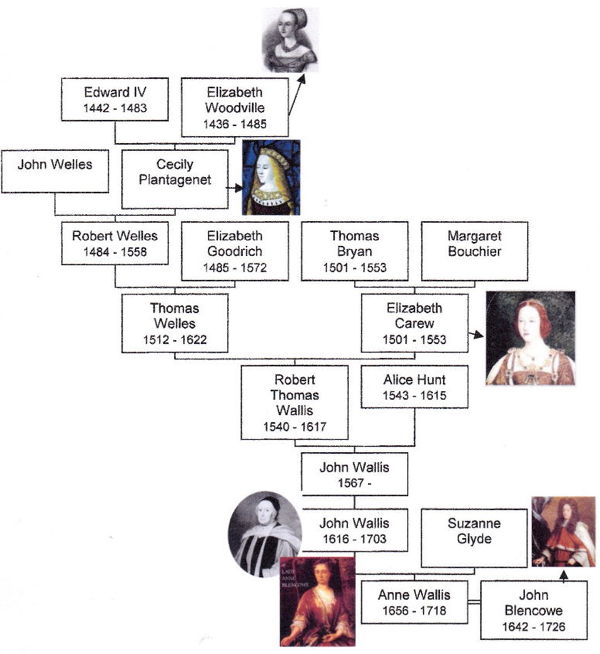 Elizabeth Carew, was second cousin to Anne Boleyn and Jane Seymour and her Mother Margaret Bourchier or Lady Bryan as she was known by was governess to Henry VIII children the Princess Elizabeth (future Elizabeth I) Princess Mary (future Mary I) Henry Fitzroy, Henry VIII illegitimate son by his mistresss Elizabeth Blount and Prince Edward the (future Edward VI). Margaret was also aunt to Anne Boleyn and and Katherine Howard.