Our most romantic reunion location to date
NIAGARA FALLS, CANADA AND THE US
THE TOURIST EXPERIENCE: Quick tourcoach dash, a few photos from the edge, perhaps a ride on a Maid of the Mist boat The old-fashioned can enjoy an entire honeymoon.
THE UNTOURIST EXPERIENCE: It's all super-touristy, but leaven the madness with a drive. You'll find great wineries and colonial-era villiages in the surrounding countryside, especially loveely in Autumn.
TACTICS: No advanced planning for once: viewpoints are free, and boat rides can't be reserved. Try for a late afternoon visit, as nightfall brings splendid multi-coloured illuminations.
INSIDER TIP: The dramatic wooden walkway at the lesser-visited Bridal Veil Falls on the American side will see you soaked in spray — but remember you'll need a US visa.
Historically, Niagara Falls was established as the ideal honeymoon destination by the French in the early 1800s. Napoleon's brother, Jerome Bonaparte, travelled from New Orleans by stage coach to honeymoon at Niagara Falls. Since virtually everyone emulated royalty as much in that era as they do today, Niagara Falls has become the Honeymoon Capital of the World: Niagara Falls has a mystique unequalled anywhere.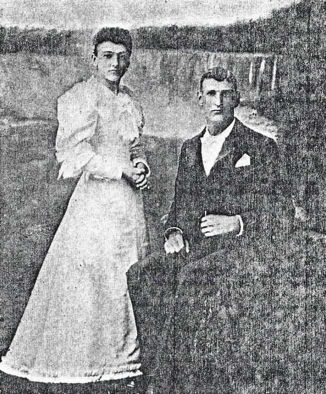 Troy & Pricella Blinco honeymooned at the Falls in the 1920s
Why do thousands of honeymooners and second-honeymooners visit each year? Romance with secluded picnic areas, dense trees, fragrant flowers and the sound of broods and waterfalls set the scene by day; intimate little restaurants, candlelight and wine by night. Every type of special once-in-a-lifetime honeymoon suites can be found at the major Niagara Falls hotels. Note - Ed hasn't booked such for the reunion!
Since Niagara Falls loves "LOVERS," every honeymoon couple receives an official honeymoon certificate signed by the Mayor - a treasure for years to come.
My observation of past reunions has been that most attendees have been married for years. So what! Come to Niagara Falls and renew the romance in the "the honeymoon capital of the world!"
Ed and Kathy had wedding photos taken there and their son, Todd proposed to his future wife at the Falls.