Blencowe Bride No 5: Mary Cooper 1604-1675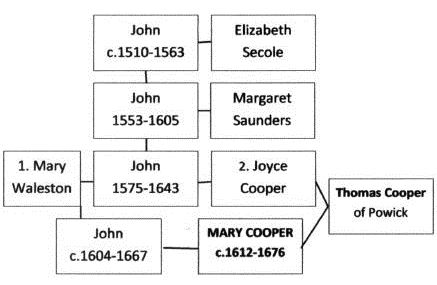 Note: Joyce Cooper is referred to as Joan Cooper in this article. Whatever the correct name they are the same person.
Mary Cooper was the daughter of Thomas Cooper of Powick, so says "the Book". Despite searching high and low I could find no Cooper family. However there was a landowning family called Cupper in Powick (sometimes spelt Couper), and in Glimpton (Glympton) which is even nearer to Marston St Lawrence.
Thomas Cupper of Powick was the eldest surviving son of a John Cupper of Glympton who in his will dated 8 July 1584 which was proved on 27 February 1585 left his son Thomas lands in Powick. Powick had two manors: one called Powick and the other associated with the Rectory which his son Vincent seems to have inherited from his deceased Uncle Richard Cupper (an MP and civil servant). John Cupper was married to Audrey Peto daughter of Sir John Peto of Chesterton Warwickshire. Her uncle William Peto, a priest, was the Princess Mary's chaplain who famously used an Easter sermon to rebuke Henry VIII for his intention to divorce and marry Anne Boleyn. Having spent some years in exile, William was briefly made a cardinal before his death.
Mary had the following siblings John 1590 – 1621, Vincent, 1600 – 1662, Elizabeth, Joan /Joyce (who married Mary's father-in-law as his second wife when her first husband Rev Francis Savage died) and Audrey. Vincent was admitted to Greys Inn as a barrister on 6/11/1619, but also seems to have been active as a minister of the Church.
Mary's father Thomas had an elder brother Thomas who died young. His other siblings were Katherine, Vincent, Richard and Dorothy (married to John Fowke of Gunston). Mary's Uncle Richard pre-deceased his father in December 1582 leaving an infant daughter Elizabeth born in 1582 for whose wardship and lands her grandfather provided in his will.
John Cupper's will appointed his sons Thomas and Vincent as overseers with his cousin Edmund Cupper and others as his executors. The will is very detailed. Audrey Peto was dead and he had a second wife Alice. John was born of his father Thomas's second marriage, and was not his main heir.
Thomas Cupper (alias Couper) (b c1495) of Stevington Salop (Shropshire) married Isabella Cooke the daughter of a wealthy Coventry merchant, Richard. Their children were: Philip, Edward, William, Edmund, Walter, Charles, "our" John, Jane and Richard whose death on 15 October 1584 necessitated some amendments to John's will. I cannot find any Cupper earlier than Thomas of Stevington to convincingly link to Mary Cooper/Cupper's family.
Mary's grandfather John and his sons can be traced through a number of property dealings, some of which seem contradictory. What is clear is that John and his family were doing very nicely, thank you. John purchased Glympton in 1547, in 1557 the advowson was purchased by an agent on his behalf and by 1562 in agreement with the other freeholders he extinguished the rights of common in the meadows of the parish – all the better to maintain his flocks of sheep, a very lucrative trade, no doubt.
John also purchased Ludwell Manor in the Parish of Wootton in 1573, and in 1575 he acquired "4 yardlands" of Kenilworth Priory's land in the parish with William Cupper (probably his eldest son who predeceased him. These two purchases meant that most of the land in Ludwell manor came into single ownership. Under a settlement of 1581 it passed on John's death in 1582 to his eldest surviving son Thomas Cupper "of Powick" who sold it in 1588-9.
It is evident from a memorial on Kidlington Church that Glympton remained in Cupper hands into the 17th century. A Judith Cupper daughter of William Peto of Chesterton, Warwickshire died 31 March 1634 is commemorated as the late wife of John Cupper of Glympton and that they had 16 children. This is quite possibly Mary's brother.
Her grandfather's dealings within Powick were more complicated. Both he and his brother Richard, who had no issue, appear to have been acquiring land in the parish in two separate manors: Powick Manor and Rectory Manor/ Prior's Court Manor. The Manorial courts for each manor were recorded as being held on opposite sides of Church Lane. Both of them acquired land in the parish at any rate: Richard bought Rectory Manor in 1573 and held a manorial court until his death in 1584-5 and conveyed the manor to his nephew Richard but another deed states that John purchased it passing it to his eldest son with a contingent gift to his younger brothers Richard and Vincent. In 1581 John Cupper settled lands in Powick on his son Richard and his wife Frances.
Richard Cupper Senior had been an MP and civil servant. His wife Ann Packington was the daughter of a well to do merchant and MP Robert Packington of Stanford on Tene, Worcestershire who has the dubious distinction of being the first man to be assassinated in London by a handgun on 13 November 1536. Her mother Alice was the daughter of Sir John Baldwin, Chief Justice of the Common Pleas.
What is clear is that ultimately Mary's father Thomas, and Uncle Vincent, each ended up owning land in Powick, both her uncle Richard and great-uncle Richard having pre-deceased her grandfather John. Thomas sold the rectory and advowson in 1600. His sister-in-law Frances remarried and held the lands settled on her husband Richard, which comprised half the parish, for her lifetime. A settlement of the manor was made in 1618 by John Cupper (although both Frances and his father Thomas were still alive). Thomas died in 1621, and in 1632 with Frances' consent, John sold the manor.
Ref: Richard Cupper Will PROB/11/67/341
Vincent Litigation E/34/31 AND E/12/HIL9
Ruth Jenkins,
England 
As the Uncle and Aunt of Sir John Blencowe, John Blencowe and Mary Cooper's branch of the family is quite significant and includes many of our members. Ruth has researched another side of Mary Cooper—the Peyto connection. Although a bit more distant it is a fascinating story for a future newsletter.