My Auntie Myrt
My Auntie Myrt was a lady I did not know very well and until I got older I did not admire her. However, the more I think about her the more she becomes a heroine of mine.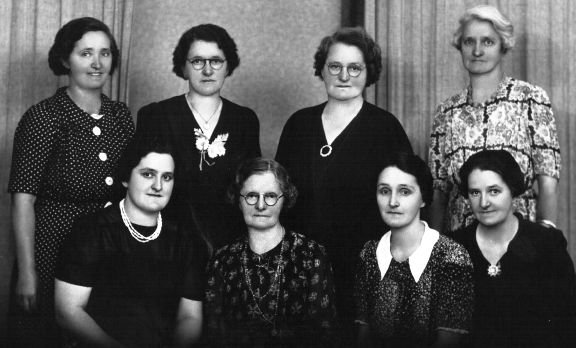 Myrt at back, left of my Grandmother, Rose with her seven daughters
 Her name was Myrtle Harrison, nee Blinco; she was my father's sister, Myrtle Avelina Blinco (1905-1985). Her father was Thomas William (1861-1835) who owned the first sawmill and the first garage in Crow's Nest. My grandparents had fourteen children, eleven of whom survived and my Auntie Myrt was about the middle. The other aunties I remember were Auntie Lucy, Auntie Pomp, Auntie Olly and Auntie Alliy, but there were more. My only uncle was Uncle Cecil, a mechanic, who owned a garage at Inglewood.
However, this story is about Auntie Myrt. There were two facets to her life, by day she was a timber worker and by night (when she was younger) a pianist. She and her husband owned a sawmill opposite my grandfathers' and the silent movies were at the Renown Hall which grandfather built as a Community Hall.
Auntie Myrt could not read music and never received a piano lesson, but could play any tune by ear. These days she would be considered quite talented.  My father and I would frequently visit Auntie Myrt and Uncle Ben at their home and, as was common in those days, we would have a singsong with Auntie Myrt playing the accompaniment. It did not matter what song you wanted to sing she could always play it.
The other side of her character which has left the most indelible impression on me was that she helped my Uncle in his sawmill, not only doing the books, but also driving an ex-army GMC timber jinker bringing the logs from where they were cut to the mill on a daily basis. The GMC was a six-wheel drive General Motors truck with minimal instrumentation, no doors and a hard seat. Auntie Myrt handled this with the ease of a professional truck driver.
The image which is uppermost in my mind is Auntie Myrt driving the timber jinker through the town of Crow's Nest on a cold winter's day wearing a multi-coloured beanie, glasses, two or three jumpers none of which matched, long socks and a long dress with scant regard for the opinion of onlookers. She was a very individual woman. I regard her as an independent, self-assured, post WW2, woman who did her job as well or better than any man.
She must have been a very attractive young lady, her three daughters certainly were- blue eyed and blonde.
John Blinco,
Crow's Nest, Queensland, Australia