An interesting find: Blencowes Milk Bar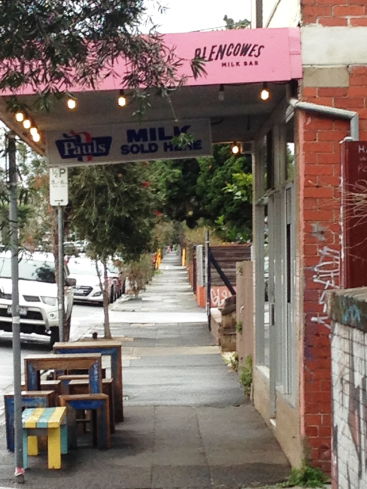 Recently, when walking down Inkerman Street, Balaclava, a suburb of Melbourne, we came across Blencowes Milk Bar at number 305, almost under a railway crossing. Of course we had to go in and probably buy a paper or ice-cream.
Inside was anything but a milk bar. It was a very trendy coffee shop. The furniture was antique and meals and coffee were served on patchwork china from my grandma's era with old silver teaspoons.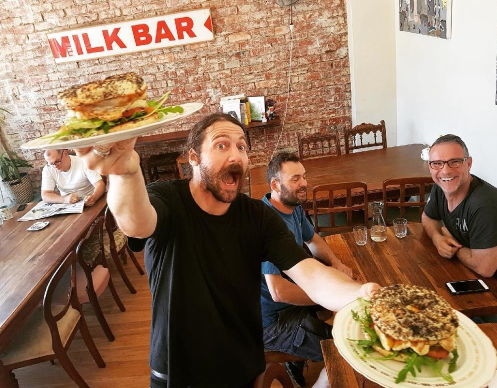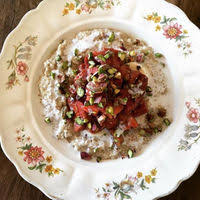 Looking at the three male workers, I tried to determine which of the longhaired, bearded characters was most likely to be a relation. I plucked up courage to enquire as to which of the gentlemen was a Blencowe. They were quite intrigued that Blencowe was anyone's surname. Apparently the shop was named after a Western Australian street.
Further investigation found that the street was in Leederville, which confirmed who of several candidates the street and café were named after.
The Inquirer and Commercial News 14 June 1895
Constable Ernest Blencowe, who was thrown, from his horse on Monday morning… has died in the Colonial Hospital. The unfortunate officer sustained concussion of the brain, and remained in an unconscious condition from the time of his admission to his death. General regret …etc. Blencowe was a thorough horseman, and his fall must be attributed to sitting carelessly in the saddle. Before coming to this colony, some twelve months ago, he was a member the West Camden Company of New South Wales Cavalry, and was one of the selected few who represented Australia at the grand military tournament -held some two years' ago at Tallington, England where he distinguished himself by winning a gold medal ……
Also from The West Australian (Perth, WA)  11 June 1895
A very sad fatality took place in Bazaar Terrace yesterday morning, which deprived the police force of a smart and energetic officer. The victim of the accident was Mounted-Constable Ernest Blencowe, who has been about 12 months in the force.
Blencowe was on what is known as morning patrol duty, which begins at 5 o'clock and ends at 7 o'clock. He was returning to the stables about the latter hour, and when in Bazaar Terrace, opposite the Esplanade Reserve, his horse suddenly shied and threw him. Mr. E. C. Shenton was near the spot, and on seeing the accident gave word to the police at the stables. 
Constable Berliner hurried to the spot and had his unfortunate comrade, who was quite unconscious, conveyed to the Colonial Hospital. Blencowe never regained consciousness, and died from concussion of the brain at the Colonial Hospital at 4 o'clock in the afternoon. 
Prior to coming to the colony the deceased was a member of the West Camden Company of the New South Wales Cavalry, and with a team from that colony visited England and Ireland, and took part in the military tournaments at Islington and Dublin, where he was successful in gaining a gold medal.
He was a good horseman, with fine military seat, and the accident is somewhat inexplicable. It is thought, however, that he was riding with his feet loose or slack in the stirrups, and the horse shied suddenly as to take him unawares. 
It was not long after returning from the military competitions in England that the deceased came to Western Australia, where he entered the force first as a foot constable. 
He was personally very popular amongst his comrades, to whom his very sudden death was a great shock.
It has not been considered necessary by the authorities to hold an inquest. 
The funeral will leave Mrs. Essex's boarding house, Bazaar Terrace, at 4 o'clock today for the Church of England Cemetery, where the body will be interred.
Ernest was the son of Thomas Blencowe (1836-1889) and wife Eliza Bennett who left Gawcott in Buckinghamshire to sail to Australia on the ship "Matoaka" as Assisted Immigrants. They paid £1.00 for their passage out arriving at Botany Bay on the 22.1.1857. A son was born and died on the 93 day voyage. They had 12 more children.
By 1862 Thomas had taken up a Conditional Purchase on 50 acres at Wildes Meadow. Another block of 40 acres, was taken up in 1875 as freehold. Eventually his holdings had increased to 500 acres and he named the property "Brookville". Thomas was recognised as a very progressive farmer. He constructed agricultural drains on his property, made wooden packing cases to carry fruit for sale from his large orchard and ran a piggery. Thomas's main source of income was from his dairy 'Brookville' which was famous for its butter.
 Blencowes Milk Bar Mini Reunion Venue?
Blencowes' Milk Bar could be booked for a morning tea or lunch. Our last in 2009 at the Verandah View Café at Kalorama was just supposed to be morning tea but was still going well after lunch – most enjoyable.
Descendants of Thomas knew of a street named after Ernest and were delighted to hear about the café in Melbourne. Like me, they live a long way away but hope to attend a function there if it can be arranged.
We would need a local volunteer to check it out. I'm sure we'd get enough interest from Victoria and southern NSW to make it a worthwhile gathering. It is a good excuse for any of us to meet for a few hours; perhaps July or August.
 I look forward to hearing from those who are interested & anyone who is prepared to make arrangements with the café. It provides an ideal opportunity to invite other family members to join in.
Anne
editor@blencowefamilies.com
Since discovering this funky place for a possible mini-reunion it has come to my attention that it has changed hands. Gone is the fine china and silver cutlery and in are novelty handmade chunky mugs.
It appears that the shop is catering more to the 'on the way to work—grab a coffee trade,' rather than table service.
Do we stick with the venue due to sentimental reasons, subject to someone looking into the feasibility of it; look for a change of venue or give the idea a complete miss? Please let me know your thoughts.
Anne
editor @ blencowefamilies.com