Watch for Adrian Blincoe representing New Zealand at the Beijing Olympics.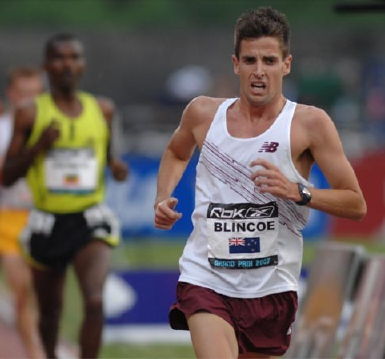 Adrian Blincoe, 26 year old son of Simon and Sharon Blincoe and eldest grandchild of very proud grandparents, Mary & Bert Blincoe, was recently engaged to Kelly Coyle of Philadelphia USA and plans to marry in Auckland later this year. Adrian is a New Zealand middle distance runner who specializes in the 1500 metres. He also competes in the 800 metres, in the 3000 metres and in the 5000 metres.
Adrian's running career began as a 7 year old heading down to the local athletics club for track and field events. Things slowly developed, the longer the event the closer to the front Adrian managed to finish. Initial success was in Cross Country at local Auckland events before he won his first major race, the NZ Schools Cross Country as a 15 year old - at the time the youngest winner of this event. This earned a trip to Australia with NZ Secondary Schools, his first National Team. The following summer he indicated he was a serious runner by winning the Under 18 NZ 1500m and Australian 3000m titles that year - also finishing second in the Australian 1500m Championship.
Setting his goals high he then embarked on a mission to attend the World Junior Track and Field Championships. He qualified in the 5000m and in doing so also qualified for the World Junior Cross Country Championships in Marrakech, Morocco and on the way won his first senior New Zealand Title over 3000m.
During this time Adrian was coached by his father Simon and after winning the highly prized New Zealand 1500m title he was offered an athletic scholarship and attended university in the United States at Villanova. Here he began a coaching partnership with three-time world champion and four-time Olympian Marcus O'Sullivan. Whilst studying accountancy he was a multiple "All-American" at Villanova in cross country, indoor and outdoor track events and was a 3 time NCAA champion (the all America University Championships). He still holds the Villanova University record in the Indoor 3000 meters taking that record of 7minutes 47 off renowned Irish Olympian & Champion Eamon Coghlan.
After graduating from University, Adrian undertook the hard option of being a professional athlete. With sponsorship from New Balance and performance bonuses he set about improving his times and rankings. Over the past 6 years Adrian has been in the top 50 ranked runners in the World over 1500m or 5000m.
After missing selection for the Athens Olympic Games in 2004 by .03 of a second, Adrian was determined to attend the Melbourne Commonwealth Games in 2006 which he did, unfortunately getting caught up in a tangle of athletes resulting in his friend, Australian Craig Mottram, falling down. This was a frustrating experience for Adrian.
Adrian qualified for the Beijing Olympics in Ostrava, Czech Republic by running 13minutes 17.28 seconds, the third fastest time ever by a New Zealand .01 of a second behind Rod Dixon and 4 seconds away from Dick Quax's then World Record time.
After a brief trip home in February where he won the Mayoral Mile in Wanganui, Adrian is now in Philadelphia preparing for the Olympic Games. A member of the local North Harbour Bays Club he also races for his sponsor's team New Balance.
Simon Blincoe, New Zealand
updated: 31 October 2008