FLOODS ..Lucy's seen it all before!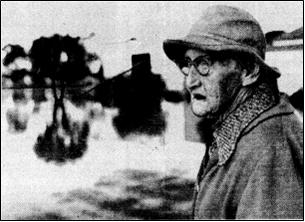 At 94 years of age, Lucy Miller (nee Blinco) the grand old lady of Chinchilla, has one last river to cross. When she gets there, she'll be home.
Mrs Miller, the oldest woman in the flooded central west Queensland town, was one of 150 people evacuated to escape the rising waters of raging Charley's Creek on Tuesday
Today, Mrs Miller and her partially blind fox terrier, Lisa, were waiting for the creek to subside so they could go home.
For the past two days, Mrs Miller, who can count five generations of her family living in Chinchilla, has been living in the local CWA hall. Luckily, the rising tide in Charley's Creek stopped short of flooding her house completely. Not surprisingly, the spirited Mrs Miller says she wasn't frightened at all during the ordeal. After all she's been watching Chinchilla go under water since the early 1900s when she moved there from Gatton as a 13 year-old girl.
Like many women, Mrs Miller tends to under-estimate her age. Nobody is quite sure when she was born and she claims to be a mere 90 years old. Grandson-in-law, Bob Kemp, says the most accurate estimate is 94.
Mrs Miller said she loves Chinchilla. "I wouldn't leave it for the world. But this is the biggest flood I've ever seen in Chinchilla. It's the first time I've ever had to be evacuated, she said."
Newspaper report from May 1985.
Lucy May Blinco was born in 1892 to Charles Henry Blinco and Fredericka Hendricks. Lucy married Frederick Miller, had 6 children and died in 1987.
Alex Richards would like to learn more about her great aunt and her family.
Contact: editor @ blencowefamilies.com
updated: 31 October 2008