Retracing the footsteps of my convict ancestor in Van Diemen's Land (Tasmania)
John, son of Francis Blencowe and Elizabeth Clements was born on the 19 Oct 1820 in Middleton Cheney, Northamptonshire. John was my great, great grandfather. By obtaining his convict records I was recently able to follow his trail around Tasmania.
From the North Hampton Mercury 7 Mar 1840, Lent Assize
"John Blencowe was charged with having, at the parish of Brackley St. St Peters, feloniously stolen three nightcaps, three pairs of stockings, and sundry other articles, the property of his master, Wm. King Malins. & Mr. Miller for the prosecution, called Wm. King Malins. The prisoner was in my service on the 18th January last, I directed my two female servants to search the prisoner's room, and found property concealed. Next morning we found the shawls hid among some paper hangings; and on Sunday the 19th January I found a black handkerchief; I there after found some of the property in the pockets of the prisoner's jacket. When the policeman apprehended the prisoner we found the rest of the property in the room where it was first discovered. (Marriot the police officer produced the property which the prosecutor identified) Susanna Smith deposed that she discovered the property in the prisoner's room and told her master of it; Jane Buck assisted the last witness in searching the prisoner's room. His Lordship having summed up, the jury returned a verdict of Guilty.
His Lordship, in the most impressive and earnest manner, sentenced the prisoner to Fourteen Years Transportation"
From the North Hampton Mercury 30 May 1840
"The under mentioned convicts have been removed from our County Goal to the York Hulk, Gosport: - William Waters, under sentence for transportation for life; John Blencowe, .... respectively for 14 years; and... for ten years".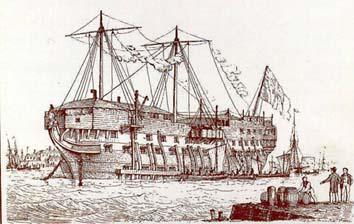 Prison Hulks: Most ships converted into prison hulks were decommissioned naval vessels. John was confined for 104 days John's record paints an interesting picture: Protestant, Can read and write, Remarks - scar on forehead, Trade – gent's servant, Height- 5.4, Age - 19, Complexion - fresh, Head - medium size, Hair- dark brown, Whiskers - none, Visage - oval, Forehead - low, Eyebrows - dark brown, Eyes - brown, Nose - long, Mouth - small, Chin - small.
John was soon granted 18 months probation, a far cry from 14 years as previously sentenced, and from 15 August 1842 was stationed at the heritage listed Brown's River Probation Station established in 1840 as barracks to house the several hundred convicts who constructed the Brown's River Road (now the Channel Highway) from 1841-46. The site has a range of surviving features scattered about and the brick making area gives one a better appreciation of convict brick making technology of the 1840s.
John was next recorded in October 1842 at Perth, a lovely little town about 180km (112m) north from Hobart. Perth has abundant convict history but I didn't find anything there of note on John whose stay was short before being assigned to the Woolmer's Estate near Longford in Nov 1842. Woolmer's was a very well established colonial rural settlement run by the Archer family from 1817. Mr. Archer was known to have great compassion for convicts, not agreeing with the system of transportation, thus treating his workers well. John served out his probation here. Incidentally, John's cousin, Thomas Blencowe, also served part of his probation with the Archers at Woolmer. I was unable to confirm the family belief that John had been a baker there; nevertheless it was special to visit the onsite bake house. Aside from the family interest, Woolmer's is worthy a tourist site with a resident historian and they make a really great lunch!
Being a convict, John had to apply for permission to marry his future wife Elizabeth Horner. Elizabeth, a free woman, arrived in Launceston in Feb. 1843 aged 16 with three older sisters and 8 other single women obviously to help populate the colonies. John and Elizabeth married in the new Christ Church at Norfolk Plain (Longford) on the 6th Sep 1846. This outstanding church was built with convict labor and was finished in 1844 and boasts most impressive stained glass windows.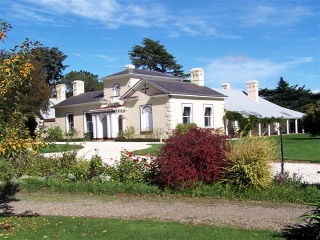 The first chaplain, Rev R. R. Davies officiated at their wedding. Maureen and I were invited to join the weekly coffee morning and we were able to share John's convict documents including his marriage certificate which caused a great deal of interest, but that was nothing compared to the sensation of being in the same place as my 2nd time great grandparents 161 years and 7 months later.
Of course a visit to Tasmania would not be complete without experiencing the Convict Brick Trail in Campbell Town, where the aim is to have a brick for each convict transported to Australia in a single strip along the foot path. The purpose of the scheme is for individuals to provide the information and commission a brick which would be made in a batch and laid in the path. John Blencowe's brick is number AH 27 and was commissioned by Jacinta and Ruth Blencowe. From my recent research it looks like another couple of chaps, Thomas Blencowe and William Blincoe would qualify for entry as well.
After his period of probation John, Elizabeth and three children moved to Victoria in March 1850. I located John's name in Moorabbin in 1853 when he was a signatory to a petition to get a post office established. Other children were born in the Richmond, Moorabbin, Cheltenham and Mordialloc areas of outer Melbourne suggesting they moved around a lot. John worked as a pastry cook.
Miriam Mary Barnett nee Blencowe with daughters Emily and Hilda Victoria.
John Blencowe and Elizabeth Horner had 11 children including my great grandmother mother Miriam Mary who was born in 1854. John died aged 50 in 1870 at Mordialloc, Victoria after being kicked in the abdomen by a horse, leaving Elizabeth and 10 surviving children. The eldest was 22 and the youngest 12 months. John was buried in the local cemetery at Cheltenham. In 1877 Miriam Mary married my great grandfather, Francis Barnett, who was a market gardener in the same area. He was also killed in a horse and cart accident on his way home from market in Melbourne only 7 years after they were married. My grandmother, Hilda Victoria was only 1 month old.
If you plan to visit Tasmania and have a general interest in convict history I would recommend the book 'For the term of his natural life' by Marcus Clarke. 'ForThe men that God forgot' by Richard Butler is worth reading too.
Spend a full day at Port Arthur, visit Strahan, have a boat cruise of Macquarie Harbor including a stop off and tour of Sarah Island - - a penal settlement of unspeakable horrors and a living hell, established as a place of 'secondary' punishment in an attempt to control the uncontrollable. Nearly every town is steeped with convict history as every road, bridge and building constructed in that era was built by convicts. For a scenic change, cruise the spectacular Gordon River wilderness area. To those who live in the UK and Europe our history is only in its infancy but gee it great.
Kevin Gibson
Melbourne Australia
updated: 6 February 2009