Sisters Seek Blencowes & Others in London
There can be no more perfect companion on a genealogy trip than someone who shares exactly the same ancestors and is interested in family history, especially if that person likes to walk and gets up early. It is a bonus if the individual is a savvy traveller who can easily navigate any new locale. In the first half of September my sister Lorna and I experienced an excellent genealogical research adventure in England
The trip was organized by the Edmonton Branch of the Alberta Genealogical Society with accommodation in the student residences of the London School of Economics. Tours or introductory talks were conducted at a number of records repositories in which group members had indicated interest. The rest of the time was free for further research, side trips to places of ancestral significance, or general tourism. Some people arrived in England days or weeks ahead of the group while others stayed on afterwards. Lorna and I made effective use of our 16 days, starting with a long weekend in Birmingham and surrounding area, where one of our great grandfathers worked his way up to a position as a bank manager. Then it was back to London to connect with our group.
The first group visit was to The National Archives, in the newly reorganized facility at Kew. It includes all services of the former Family Records Centre in Islington, closed in March 2008. To get to Kew we experienced a trip on the Underground, closely packed in with fellow travellers. My highlight at The National Archives was locating service records for a Blencowe relative who was a Royal Marine.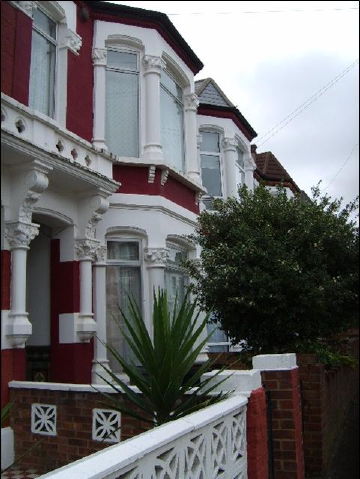 47 Burrows Street, Kensal Green, home of Lucy Ann (Blencowe) Whitehead and family in the 1901 Census
Next day we walked to the Guildhall Library, which holds records for the City of London, i.e., the square mile that is the heart of old London, as well as some materials for other parts of metropolitan London. Although some Guildhall records date to the 11th century, we were pleased to find various city directories from 1805 onward that contained information on several relatives and others with names of interest, including a few Blencowes. The third repository, and the least productive for the Astle sisters, was London Metropolitan Archives. Located a few minutes walk from our residence; it contains archives for Greater London.
Following a free weekend, our group went to the British Newspaper Library in Colindale, where the 19th Century British Library Newspapers database proved to be a gold mine of items from The Bristol Mercury on two of our family names. The following day our group was welcomed at the Society of Genealogists where the most exciting find for Lorna and me came from a collection of donated documents housed in over 2000 boxes filed by surname. From the Blencowe box we photographed several documents including one from 1697 written in Latin. Our last day with the group, at the Probate Office, we found and purchased a will for a second great grandmother whose place and date of death had eluded us for the past 5 years. We also took notes from the wills indexes on several Blencowe wills. We had been able to walk to both the Society and the Probate Office, confirming the value of the LSE residence as a base for genealogical research in London.
Our last three full days were indeed full with a day at Kew Gardens and more trips to ancestral places. In Kensal Green we were thrilled to find street after street of the row housing where Lucy Anne (Blencowe) Whitehead, our last Blencowe ancestor, lived during her short married life.
On our final Sunday we attended a Church of England service in St. Pancras Old Church, a delightful, stone building of intimate proportions that, amazingly, still stands in a lovely green park not far from St. Pancras International Station, the departure point for trains bound for the continent. In Old St. Pancras, on a site of prayer and meditation since AD 314, Samuel, our first known Blencowe ancestor, married Anne Poole in 1812. The church was restored during the Victorian period and again after WWII bombing.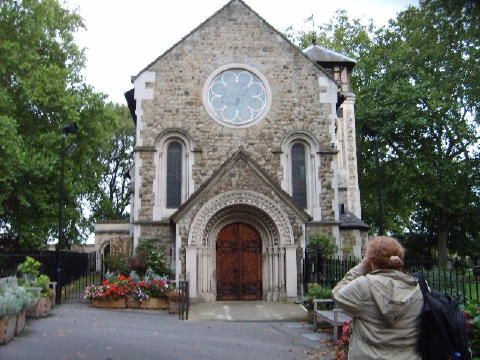 St Pancras Old Church, where Samuel Blencowe married Ann Poole in 1812
After church we retrieved our luggage and made one more trip on the Underground, to Heathrow Airport and back to Canada. It was a richly rewarding trip in many ways. As I said on a postcard to our parents, Lorna and I also discovered that, after a 40-year interval, we are still good roommates.
As I write up the various Blencowe finds I will be providing short pieces to the edtors of the Blencowe Families' Association newsletter for the next few issues. Especially since I have only four known generations of Blencowes, I want to stretch out my contributions!
Marilyn Astle
Canada
updated: 4 August 2009