Got £6,000 to spare in a credit crunch?
Buy yourself a lordship
Cumberland News
3 October 2008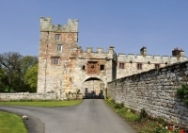 Naworth Castle, near Brampton
The Lordships of the Manors of Faugh and Fenton, Easby, and Clifton and Coldwell, are on the market through London-based auction company Manorial Auctioneers.
The titles can be used on passports, credit cards, and other documents, and entitles the owner to join the Manorial Society of Great Britain. They are being sold from the Naworth Castle estate owned by the Howard family of Carlisle.
Robert Smith, from Manorial Auctioneers which is organising the private treaty sale, said it was the first such sale in Cumbria since the 1980s. He did not expect ongoing financial problems around the world to affect the sale.
"Obviously it tends to be people of a certain monetary bracket who will be interested," Mr Smith said. "It is somebody who has £6,000 that they might have been planning to spend on a fur coat, but who buys this instead.
"We are talking about someone with discretionary income, even during the credit crunch, and believe me, they are there."
The sale provides a once-in-a-millennium opportunity — the Cumbrian estates have been in the same family, via female succession, since their 12th-century creation.
Mr Smith added that manors were often sold to help with the upkeep of other properties — Naworth Castle, in the case of the Howard family.
Although there is no actual land to be bought with the Lordship, the owner of the title can accept money for anything affecting the layer of earth three feet below the surface.
This means that anyone wishing to construct anything with large foundations, such as a wind turbine, would need to pay some money to the Lord However, the boundaries of the manors are also unclear, because of the lack of clarity in medieval mapping, and would need to be researched.
Easby lies in the township of Brampton, and Faugh and Fenton is in the parish of Hayton. Clifton and Coldwell, while owned by the Howards, actually lies in Northumberland.
Sunderland footballer Djibril Cisse made headlines in 2005 when he became Lord of the Manor of Frodsham in Cheshire. In 1999, the Howard family sold four wooden sculptures of heraldic beasts, which adorned the great hall at Naworth Castle, for £420,000.
Submitted by Ruth Jenkins, Suffolk
updated: 19 August 2009