Blencowe Family Association Reunion
26-28 June 2010
My wife and I have just returned from a visit to Cumbria where we aimed to tie up the loose ends for our Reunion next June. Again we found the 'locals' very supportive and ready to assist in anyway they can, which bodes well, hopefully, for the smooth running of the reunion.
To remind those who are thinking of joining us from Saturday June 26th to Monday June 28th, a reunion Dinner is planned for Saturday evening in the village hall, provided by the Crown Inn, a tea party in the gardens of Blencow Hall on Sunday afternoon and a guided tour of Greystoke Castle on Monday morning. It will be necessary to make a charge for these three events, and details of these are shown on the enclosed form which should accompany this newsletter. We hope also to hold a simple Blencowe Family Thanksgiving Service in Greystoke Church on Sunday morning and if there is enough interest a visit to Dalemain Hall and Dacre Church on Monday late afternoon.
Reunions, I believe, should not be over organized, for members will need time to just meet each other and explore the neighbourhood, Carlisle, Hadrian's Wall and Ullswater are all within easy reach, and I will have other attractions listed at a later date.
TRAVEL: On a practical note, I can confirm that Penrith (just 5 miles from Blencow) is on the main railway line from London Euston to Glasgow Central and Birmingham to Edinburgh.
I have details of car hire and taxi services for those who would like to contact me. Ian Overs at Eden Garage (tel: 017683 61212) has been recommended as someone local who does an excellent car rental service and will pick up and drop off cars for anyone arriving / departing from Penrith Railway station There is also an infrequent bus service that runs between Penrith and Blencow, details of which I have. Further information can be obtained from the Penrith tourist Information Centre, Tel:01768 867466 . Website www.visiteden.co.uk
ACCOMMODATION: The rooms in Blencow Hall were rapidly taken up, and I hold a waiting list in case anyone drops out. For those who have already booked and paid a deposit I won't need to call on them for the balance until the February newsletter. I listed hotel and B&B accommodation in the last newsletter, but many of these suggestions in Penrith are not nearby. I have now heard of Stafford House, run by Hazel Knight in the grounds of Greystoke Castle, Greystoke CA11 0TQ tel:017684 83558. Her B&B house is well recommended.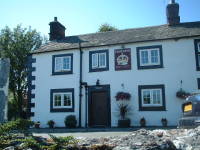 Adrian and Sue Carroll at the Crown Inn, Little Blencow Tel 017684 83369 are also worth trying, and very near.
It may also be of interest that a few Blencow Village inhabitants are producing a book entitled Blencow, Past and Present. It is hoped that this will be on sale at the Garden Tea Party at Blencow Hall on the Sunday afternoon priced about £5.
If you wish to come to the reunion and have not obtained the enclosed acceptance form, please get in touch with either Walter in America, Anne in Australia or myself in the UK.
Peter Blencowe,
Walderton