Descendants return to Blencow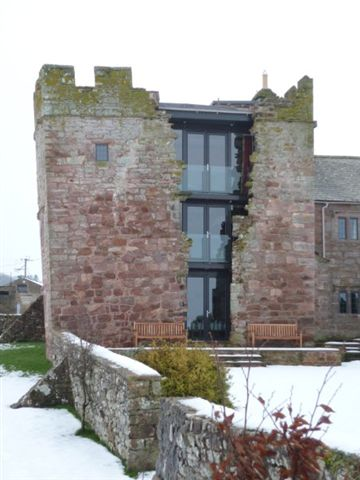 Beryl Blencowe's granddaughter, Rhiannon Amos, from Sydney, wrote,
"I recently visited the UK over the Christmas period and managed to take a drive up to picturesque Cumbria and take some photos of the famous Blencow Hall that our family has talked about - it was beautiful, especially with the snow!"
I have used Rhiannon's snow photos throughout this newsletter.
Annette Blencowe Garner, who is one of the Nuneaton Blencowes whose family originally came from Oxfordshire and before that Northamptonshire, had trouble finding it.
"I went looking for Blencowe Hall three years or so ago! My old school friend drove me there and we found the signs to Blencowe and knew there is both a Little Blencowe and a Greater Blencowe.
Well, we took the road to the left - but no joy, although we did see a building site. So we went back again and took the road to the right. We followed the road round and eventually realised that we had covered our tracks more than twice so I suggested we ask at the Pub. My friend got out and asked a man who was helping his wife to get into the car, explaining that I was looking for Blencowe Hall because I was from the Blencowe family, and the man said "That's a pity they were a bad lot!"
We were laughing for hours! We did find Blencowe Station though!
Well Annette, on 9 February 1357, there is an interesting reference to Adam de Blencow when he was granted a pardon for all "homicides, felonies, robberies, larcenies, oppressions, extortions, excesses, conspiracies, confederacies, champerties, murders, receiving of felons and other trespasses before 3 March 1358" (ref: M.Work 1986) This does suggest that Adam may have had the odd flaw to his character! Besides, our crest shows a silver sword plunged into a red heart supposedly that of the Douglas family lad caught raiding our cattle.
Perhaps the Blencownians were correct!
Anne
updated: 5 May 2010