Blencowe Family Reunion at Blencowe Hall, Cumbria
Comments on the Blencowe Families' Association Reunion by people who attended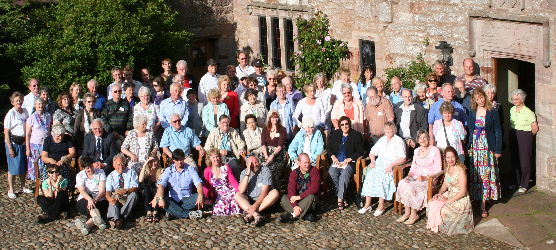 Sunday's Garden Tea Party group in the forecourt.
This was the third BFA reunion to be held in England. I have visited Blencow and Blencowe Hall on each occasion. In 1993, Jack arranged a bus tour which included Blencowe Hall, where we had afternoon tea and were invited in to see the first floor. Both towers were in complete ruin and the Western Range was not in use. On my second trip in 2007, the Hall was well into the renovation stage and we were invited to take a look around keeping in mind that it was an active construction site. This time, we made it to the final step and were able to stay at the Hall during the reunion. The renovations are absolutely fantastic!
Peter had a well oiled machine running as we arrived at the Hall on Saturday about 2:30pm. He would get things started, and Anna was in charge of getting people to their room. This venue was somewhat larger than their previous experience with a B&B. As with any large (self hosted) gathering, there was always a good sized group of people in the modern eat-in kitchen area. The next favourite spot was the garden patio, where making the most of the wonderful weather, the family enjoyed leisurely breakfasts, many a cuppa and the odd drop of wine during the festivities.
The Family Dinner at the Village Hall in Blencow had excellent buffet food and beverage for all to enjoy. Several people brought in small items and pictures to enjoy during the festivities. The Service at St Anthony's in Greystoke was very memorable as this would have been the primary church for the family while in this residence. The visit to Greystoke Castle was interesting. You tend to think about the oldest parts of the castles rather than about their re-building following the various conflicts and fires that destroyed them. The usage of the Greystoke buildings was quite diverse; having been was used as a POW camp for Polish prisoners in WW2.
The Blencowe stone in the old wall is quite high, but still very visible to those that know what they are looking for.
Dacre Church, would have been the family church for the previous Blencowe Hall and was also quite interesting with an oversized organ and both ancient and modern windows. The church parishes were defined geographically and the old Blencowe Hall was on the other side of a parish boundary (Petteril River).
The tour of Dalemain House and gardens was enjoyable, with a huge formal garden area with quite a bit of the house open to visitors. The restaurant could have employed more people to handle the influx of our group as the service was quite slow.
As always, the end of a reunion is somewhat of a disappointment as you have to leave the new friendships made and re-kindled, and this time, we had to "leave home" as well.
Allen & Gail Blincoe
Ohio, USA
Snippets from Correspondence
Thoroughly enjoyed it all - only sorry we couldn't spend longer there - It seemed to go very quickly - no time to talk over trees & connections - but the Hall was a perfect setting with plenty of space.
I had an amazing holiday in England, and am very glad I went. Unfortunately I didn't manage to get the names and addresses of any new rellies apart from family whom I already knew. Blencowe Hall and Greystoke Castle were especially memorable.
We had the pleasure of meeting a third cousin from Little Rock, Arkansas for the first time. We shared a meal at Dalemain, discovering that we had quite a lot in common which added to the fun.
Our whole trip was quite wonderful. We'll have many, many great memories for years to come What a wonderful time we had! The buffet & the tea were superb. The leisurely breakfasts on the sunny terrace or in the friendly kitchen were unforgettable.
The trips to Greystoke, Dacre and Dalmain were all brilliant and it was fascinating to meet our relations and discover where everyone fits in to the family tree.
It was enjoyable meeting the locals who were working at our functions or in the pubs at Blencow and Greystoke.
My only regret is that, enjoying chatting with so many old friends, I missed the opportunity to get to know the new participants.
We had a great time. It was a lot of fun meeting other "family" members. The visits to Greystoke Castle, Dacre Church and Dalemain were most interesting.
Hedgerley Blincos Re-united at Blencowe Reunion
Following the successful reunion of Australian Blincos from Hedgerley in 2008, I jumped at the chance to see where things were that everyone was talking about in the 2010 reunion at Blencowe. I had plans to check out the big house at Cumbria and visit the Blinco heartland in the Hedgerley district in Buckinghamshire, but that's another story.
Based on the articles and general chat on what Blencowe Hall was and represented, I went out with expectations of a great house, full of rooms of all shapes and sizes, small doorways (great for us vertically challenged lot) and lots of hidey-holes where things used to be or have been passed over in a couple of hundred years of renovations. Well, my expectations were easily met by the Hall with a bonus of sharing it with so many cousins. We were fortunate to be able to stay in the Hall for three nights and thanks to the monumental efforts of Peter and Anna Blencowe, our stay was just like being at home with people we had known for ages.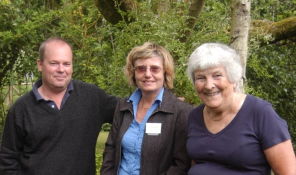 Blinco cousins from Australia and England meet
I anticipated that I might have been the only Hedgerley Blinco from the land of OZ before I left; I was looking forward to catching up with Hedgerley cousins from the UK. With the kind assistance of some who are better graced with social networking than I, I was introduced to my first cousin Joan Martin and her husband John at the dinner on Saturday night. We pretty quickly knew that we were connected and with a bit of help from the Blue book, we established at the afternoon tea on Sunday exactly how the connections were arranged. For me it was amazing to meet someone who had in common only a blood line, yet we were able to talk so freely about our experiences and knowledge of the family.
On the Monday at Dalemain House, I was strolling through the gardens with my new-found cousin, and my social networking godmother whispered in my ear that there was in fact a second Hedgerley Cousin in our midst. I was introduced to Charmaine Hartley and her husband Frank while inspecting the roses. This was turning into an exceptional event having now met two UK cousins. Unfortunately, our time was short, but we exchanged contact details there and then and took the obligatory family photo.
I now hope to maintain contact with my Hedgerley cousins and maybe share some folklore about what the UK branches have been up to since "separation".
Robert Wallis
Western Australia
Our Young People at the Reunion
It was encouraging to see so many of our young folk accompanying their parents to experience our family heritage first hand. Five countries are represented. I am sure they all recognise the significance of being able to visit a place like Blencow Hall where our very early ancestors lived. Hopefully in years to come they will return with their own children.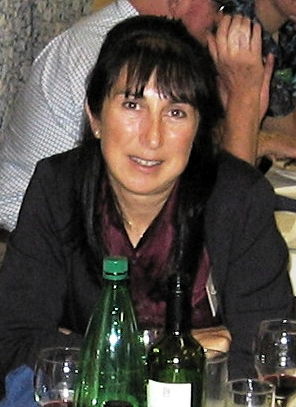 Laura Hatfield Cayman Islands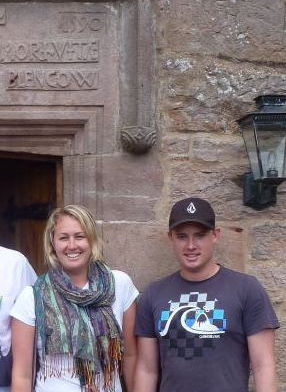 Kylie & Nic Reed Australia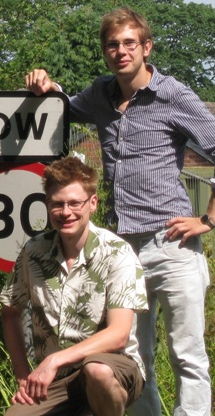 Christopher & Peter Blencowe from England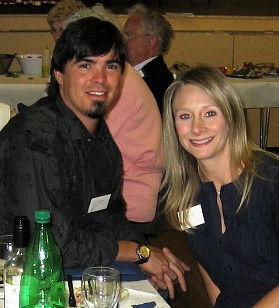 Heath & Cara Owen USA
Ashlie Ballantyne-Wallis Australia
Crown Inn Pub Quiz Defeat
Two teams representing the brains trust of the Blencowe united nations family took on a team of locals in the Monday night Pub Quiz. I'm sorry to report that the Blencowes were soundly beaten by the Blencownians. It was a lot of fun.
We have many to thank for the success of our reunion
Twice over the last two years Peter and Anna Blencowe have travelled from their home in the south to the North West corner of England to establish contacts and work out the viability of holding our reunion in Blencow. With Blencow being a small village in a rural community, it was important to make personal, face to face contact to ensure local support. By involving so many villagers in the preparation for our arrival we were met with enthusiasm throughout Blencow and the neighbouring Greystoke.
It was due to his eye for precision planning that Peter was able to set up such an interesting and varied programme. Thank you Peter and Anna for the many miles you covered, the hours on the telephone and computer for delivering such a wonderful weekend for our 13th biannual reunion and 25th Anniversary of the founding of the Association.
As Blencowe Hall is a self catering establishment, Anna's preparation kept us very well fed for the duration of our stay.
On behalf of the Blencowe Families' Association, I'd like to also thank the following people pivotal in the success of the reunion:
Charles Rowley, owner of Blencowe Hall, who had the vision to turn our wasting pile of rubble into the magnificent building that it now is. Blencowe Hall will now stand proud for many more generations to come.
Gilly Musgrove, house keeper and lady "on the spot" for many enquiries.
Muriel Austwick and team for the booklet on the village, Blencowe: A Brief History.
Neville Howard, who opened Greystoke Castle to us and delivered an informative history of the district and his castle.
Sue Carroll and team from the Crown Inn, who provided the Buffet dinner at the Village Hall.
Christine Sealby and team for the catering at the Village Hall dinner.
Margaret Cormode of Eden House Cakes for the Garden Tea Party at Blencowe Hall.
Church Wardens at Greystoke Church and our own family members who took part in the service along with Peter. The Rev David Jackson from Cumbria, The Rev Mary Janet Murray from USA and the organist, Ian Blencowe of Australia.
Walter Mead, who kindly conducted a tour of Dacre Church.
All the staff at Dalemain House.
A special thank you to Barbara Fawcett of Little Blencowe Farm for all the encouragement and advice she gave to Peter.