A Notable Blencowe
Colonel Edward Prowett Blencowe 1877-1960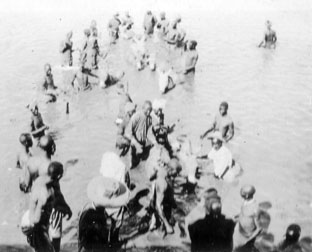 Edward Prowett Blencowe was the eldest of seven sons and two daughters born to The Rev Canon Alfred Blencowe and his wife, Louisa Walcot. Their daughter, Ruth Courtney, aged 89, attended the reunion at Blencow.
Alfred was the third son of John Jackson Blencowe of Marston House and Cecilia Prowett, who are my great grandparents.
My Uncle Edward was educated at Marlborough and Keble College, Oxford and then Sandhurst. He joined the Hampshire regiment in 1900 and appears to have been sent almost at once to South Africa to serve with the regiment in the Boer War. He has left us some remarkable early photographs of his military campaigns, and these include photos, all meticulously written up, of Pretoria, Quagga Kop, the railway carriage in which President Kruger lived after the capture of Pretoria, the Siege of Ladysmith, General Buller's headquarters, a Boer prisoner of war camp and much besides.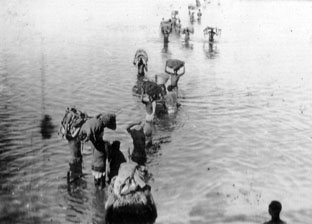 Wading through Bahr el Ghazel swamps
He was seconded to the Egyptian army from 1906 to 1910, and during that time was sent on an expedition to take supplies from Khartoum to the border of the Sudan with the Belgian and French Congo. Here there were British officers, who had not seen any other white man for a year, based with native soldiers, aiming to guard the Sudanese border. The perilous journey back is illustrated by some wonderful unique photographs, again over 100 years old. He writes under one, "Owing to the rebellion on the Blue Nile (unknown to me!), the steamer to bring my party out was late and the river at Bahr el Ghazel got too low to reach the point at which we were waiting with 200 soldiers and drivers and some 400 surviving animals. I then decided that the only solution was to cross the swamps and hope to meet the steamer at a further point down river". In his photo album are dramatic pictures of the party wading through the swamps along with other fascinating pictures.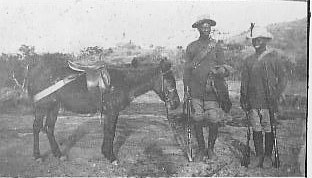 Edward and his loyal mule
Many of his animals, which included his mule which carried him 1000 miles, died of sleeping sickness, and doctors later were very surprised that he never caught malaria.
During the 1914 War, he was attached to the Royal Army Service Corps as a full Colonel, and fought in the Eastern Mediterranean and on the Western Front, where he was awarded the DSO.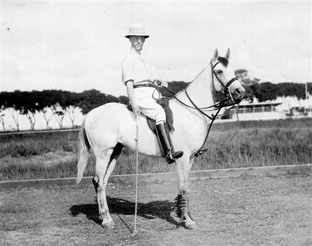 Edward astride 'Tomato', one of his ponies.
Alongside his military career, he was a keen horseman, playing polo and racing in Point to Points.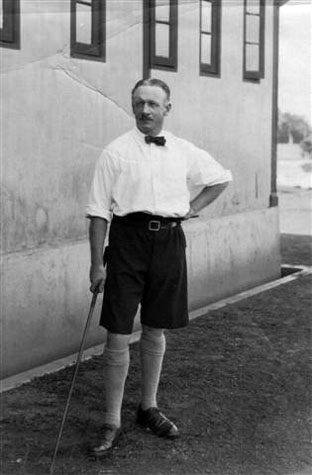 Above all, championship golf entitles him to be a Notable Blencowe. For two years running in 1924 and 1925; he was Golf Champion of Ceylon (now Sri-Lanka). Should anyone find themselves in the Nuwara Eliya Golf Club, take a look at his name on the Honours Board. He claimed to have played on 316 golf courses in 34 different countries from China to South Africa.
Edward married Irene Maud-Roxby in 1919, and Ruth is their only child. In his final years, he retired to Curry Rival in Somerset, still enjoying a round of golf.
Peter Blencowe
England