In The News
Faithless Lover To Pay Damages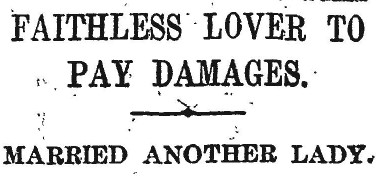 In the King's Bench Division yesterday, Miss Alice Minting, of Wood Green was awarded £150 damages in an action against Sidney Herbert Blinko, of Palmer's Green, for breach of promise of marriage.
The defendant, who did not appear, admitted the promise to marry, but alleged that the plaintiff herself broke off the marriage and relied on a letter written by Miss Minting dated April 9, 1923 to establish that position.
Mr. Hart. for the plaintiff, said that the parties first met in 1916 and in 1917 the defendant proposed and the plaintiff agreed to marry him. The arrangement was that the marriage should take place when the defendant succeeded to his mother's business.
That happened in 1922 and there was a distinct proposal and something like a definite arrangement that the marriage should take place in September of that year. When that time came the defendant said that he would like to put it off over the winter, and that was assented to.
They continued engaged until 9 April 1923, when it is alleged that the plaintiff wrote the letter to which the defendant referred in his defence. The plaintiff said that about that she could recollect writing a letter to him taking strong exception to certain behaviour of his and saying that if there was not a marked improvement she would have to consider whether she would have anything more to do with him.
A fortnight later the defendant wrote a letter to Miss Minting, in which he said: "If you will only give me an interview I will come down and explain. We must, not let things go on as they have done, so if you are agreeable we will get married as soon as you wish. I really mean this."
In pursuance of that letter the plaintiff saw the defendant and they made it up, and continued on the same terms as before until in August the defendant failed to keep an appointment and held no further communication.
The plaintiff said she learned that the defendant had met another young lady, whom he subsequently married.
The jury returned a verdict for the plaintiff, awarding her £150 damages and judgment was entered according.
This story from a 1924 newspaper article is a gem. How the world as changed! It might provide a skeleton for some member's closet. Incidentally from the database I think this is a Sidney Herbert Blinko born Edmonton 1898 who married Gladys L Fisher in 1923 (ties up with story dates) and died in 1962 in Newton Abbot, Devon. Sidney was a descendant of the William Blincko C1635 Iver family.
Roger Blinko
Brackley Petty Sessions 1846
William Blincoe and George Padbury, youths of Brackley were brought up and reprimanded for misconduct in Brackley churchyard during Divine Service.