Recognizing a Place in History
On a sunny Sunday morning in October I joined the Cheltenham Pioneer Cemetery "Hidden Gems, Odds and Ends" tour. It was fascinating to hear stories of Melbourne pioneers and early days, but my gem was the story of my great x3 grandfather John Blencowe. John Blencowe's story has appeared in newsletters in 2006 & 2008 and been told at Reunions. Of the four Blencowe convicts transported to Australia, John was the one who left a legacy of many descendents.
It was a very interesting and insightful tour, well presented and included a lovely morning tea! The FOCRC trust is doing a wonderful job of researching the pioneers and sharing their stories. Johnís grave is currently unmarked, but this springtime was covered with a flush of yellow daisies. As the tour group clustered around the grave, the story of John's life was told.
Now due to some extensive collaboration between Kevin Gibson (one of John's descendents) and the Friends of Cheltenham Cemeteries, and financial contributions from descendents of John and the Blencowe Family Association, Johnís grave will be recognized with this historic plaque.
As the host of our tour said, as he placed a rose on the grave site "John Blencowe, you are remembered".
Jacinta Blencowe
Melbourne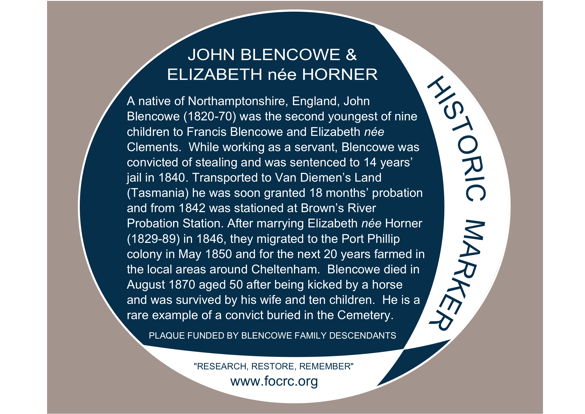 In recognition of John Blencowe's place in the history of Australia, the Blencowe Families' Association contributed to the plaque.
The FOCRC Trust initially contacted the BFA last year after finding Kevin Gibson's November 2008 article, Retracing the footsteps of my convict ancestor in Van Diemen's Land on the website. It was a surprise for Kevin and has led to this outcome. We thank the FOCRC for their interest. This shows the value of having the newsletter archive on www.blencowefamilies.com Anne
Previous articles:
John Blencowe - convicted and transported
Retracing the footsteps of my convict ancestor in Van Diemans Land