An Impressive Family Pub
I have found a small item, which may be of interest, to the many members who descend from Francis Blencowe and Anne Harris.
The long street frontaged, wooden framed, oak beamed 16th Century building, called "The Reindeer Inn" on Parsons Street, Banbury, Oxfordshire, was owned outright by John Knight, my (and possibly your) Great x11 Grandfather. He lived there with his wife and 9 children as did his descendants for 150 years.
During this time, The Inn was used by Oliver Cromwell as the base for his planning and execution of the Battle of Edge Hill, which is traditionally accepted as the beginning in 1642, of the English Civil War (1642 - 1651).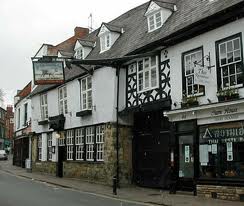 Cromwell also used the Reindeer Inn, to plan his two attacks against Banbury Castle, the first and unsuccessful one, was in the winter of 1644-45, whilst the follow up and second siege, began on 23rd January 1646 and lasted for 3 months until the Castle's eventual surrender.
He also used the Reindeer Inn, and the current Tudor "Globe Room" in particular, as his Court Room, to sit in judgment for several of his "Royalist Trials" that took place during the Civil War. Behind the current front Reception Desk of the Inn, still stands a large engraving, showing Cromwell seated behind a desk, with the unfortunate captive standing in front of him.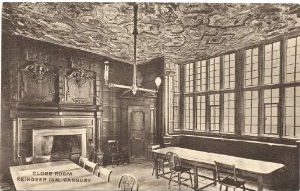 Globe Room at the Reindeer Inn -1910
The Globe Room (Cromwell's Court Room) is quite spectacular, with a high ceiling and richly carved panelled walls, with pillars, shields, scrolls and cherubs. Above the panelling is an ornamental frieze covered in a mixture of angels and scrolls. Surmounting all this is a magnificent honeycombed pattern plaster ceiling, rich with flowers, urns and scrolls, with mermaid like figures appearing at intervals around the room. On the east side of the Globe (Court) Room, is a great mullioned window with eight bays, having a carved oak Ionic pillar on each side of it, with, at each end of this wall, superb carved oak doorways.
In more recent years, it has been questioned, without any recorded answers, as to why this room in particular, and the Reindeer Inn in general, was so favoured and preferred by Oliver Cromwell, because such similarly luxurious and expensively decorated buildings and houses of the period, were the homes of noblemen, and the local gentry and wealthy families. I would strongly suggest that the mystified Oxfordshire historians simply delve into the genealogy and family history of our ancestors! They will find that John Knight and his 8 daughters and one son William were a very wealthy bunch of Banbury inhabitants! William was educated at Merton College Oxford, and the Inns of Court in London. He was Chamberlain of Banbury for 20 years, was elected Mayor and Bailiff of Banbury twice, and appointed as a Justice of the Peace. John's 8 daughters had husbands, who included another Mayor and J.P., and yet another son-in-law, who became a Mayor of Banbury and a Banbury Justice of the Peace.
To further add to the reasons why Oliver Cromwell's choice of headquarters was so sumptuous, John's daughter Joyce married Thomas Whately, a wealthy mercer in the City of London and landowner with farms at Hempton and the south of Oxfordshire. He has records within the Banbury Corporation Archives. He was twice elected Bailiff of the Borough in 1592 and 1599, also being elected as Mayor of the Town of Banbury in 1611 and 1623. The Crown appointed him Justice of the Peace, referred to since the 16th Century as Magistrate.
Joyce Knight & Thomas Whately had 3 sons and one daughter - Joan Whately. She married The Rev. Doctor Robert Harris, President of Trinity College Oxford. Joan and Dr Harris had a son The Rev Malachi Harris, who became the Private Chaplain to none other than King Charles II. Not a bad bunch of "in Laws and grandchildren" of John Knight at the Reindeer Inn at Banbury! Malachi and his wife Mary Fossett are the parents of Anne Harris, wife of Francis Blencowe.
Antony Farnath
Wolverhampton