A recent trip to Gawcott
My great-grandfather William A. Blencoe, son of John and Hannah (Herring) Blencoe, was born in Gawcott, Buckinghamshire, England, where he was baptized on 25 August 1822 in the old Anglican Chapel. When William was ten years old, he migrated with his family to the Norwich area of New York State. Their trip was made by sailing vessel, since steam ships did not come into use until 1838.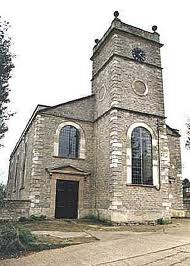 In 1853 William married Gawcott native Mary Ann Marks, daughter of Emanuel and Mary (Bennett) Marks, who had migrated to New York State in 1849. (Emanuel Marks was from the Marks family of Great Horwood, near Gawcott.) Mary Ann, born in 1835, was baptized in November of that year in Gawcottis Holy Trinity Church, which had been built in 1827.
In 1854 William and Mary Ann Blencoe moved further west to Wisconsin, where they carved out a homestead near the present village of Alma Center, ten miles from where I now reside. At that time, Wisconsin was a young state, and land could be purchased from the government for $1.25 per acre.
Back in Gawcott, relatives of my William's, William H. and his brother Jesse Blencoe, learned of opportunities in America and decided to emigrate, also. William H. had been baptized in Gawcott's Holy Trinity Church on 20 April 1834 and Jesse on 30 April 1848.
Jesse and wife, Mary Ann (Smith), moved to New York State in 1868 and to rural Alma Center in 1871. Brother William H. and wife, Susan (Mercer), migrated to New York State in 1869 and to Alma Center in 1874.
All of these Blencoe men farmed near Alma Center but also continued to work as stone masons and brick makers/layers. (It is believed that some of the Gawcott Blencoe family members cut stone at one time for the renowned Stowe House at Stowe, Buckinghamshire.)
Living near me here in Jackson County is Nola (Blencoe) Olson, great-granddaughter of William H. and Susan Blencoe. Last September, 2011, the two of us made a "pilgrimage" to Gawcott while in London with a tour group.
Sunday, September 25th, was a free day, so we took a train from Paddington Station to Oxford, where we were met by Jack and Kee Blencowe. What a joy it was to see that very special couple! I had not seen them since 2004 and was anxious for a reunion. (As every Blencowe/Blencoe/Blenko in the world knows, Jack is indeed the "leader of the tribe.")
Jack and Kee drove us the short distance to Gawcott, where we arrived in time to attend the 11:00 A.M. "Harvest Festival" service at Holy Trinity Church. It was a moving experience to be in the same setting where our ancestors had once worshipped. Members of the congregation were welcoming, but our warmest welcome came from Sue Ambrose, a lay preacher who led the service on my last visit to the church. Sue's gracious hospitality included having us for dinner at her home near the church following the service. Also present were Sue's affable husband, Peter, and four other members of the congregation. This was a memorable experience: a lovely setting; excellent food; fun people; and stimulating conversation.
Prior to dinner, Nola and I visited the church cemetery, where we found the graves of her g-g-grandparents, Thomas and Frances Blencowe. Other Blencoes are buried there but with stones that are no longer readable.
Early in the afternoon Jack and Kee, who had gone to Buckingham, came to retrieve us and return us to the railroad station in Oxford. We were so very grateful for their assistance.
Our wish for a great trip to Gawcott came true. Our remaining wish is that we could have a chance to return the wonderful hospitality that was shown to us that day.
Mary Van Gorden
Wisconsin, USA