The early Blinco family of Hedgerley
The first documented evidence of a Blinco living in Hedgerley dates to 16 October 1692 when the register of St George Chapel Windsor records the marriage of William Blinco and Sarah Nash, both of Hedgerley.
Why the marriage of two Hedgerley residents should have taken place at St George's is something of a mystery. The Chapel still serves to this day as the parish church for the community of Windsor Castle within the walls of which it stands. As such it has seen the baptisms, burials and marriages of many members of the royal family over the years.
While it was not unknown for ordinary citizens from the surrounding towns and villages to marry there I believe William and Sarah's choice to marry there may be an indication that the family were not full members of the Church of England at this time. While William is thought most likely to have been the William Blinco baptised in the nearby parish of Iver in 1672, Sarah underwent an adult baptism in Hedgerley many years later. It might be that the parish priest of Hedgerley was not prepared to marry a woman who had not been baptised. St Georges Chapel on the other hand was a royal peculiar with no Bishop to answer to and as such may have been an ideal place for non conformists to marry legally.
We should note that although the lack of a baptism record for Sarah makes it impossible for us to identify her parents or birthplace the surname Nash appears in the Hedgerley parish registers earlier than this. It may well be then that Sarah herself was from Hedgerley and that it was his marriage to her that brought William to live there and started an association between the village and the Blinco family which lasted for two centuries.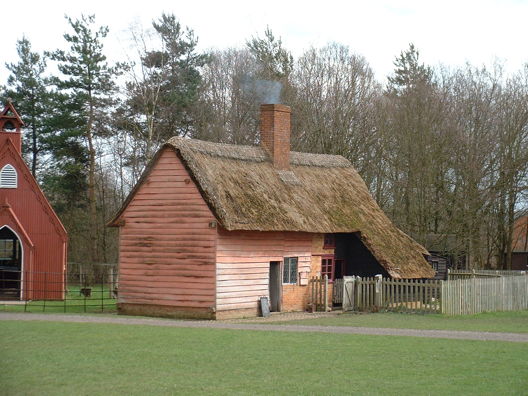 This restored cottage at the Chiltern Open Air Museum may be similar to the Blincois home in the early 18th Century.
What we know for certain is that from 1695 William Blinco was paying parish rates in Hedgerley. Parish rates were the local taxes paid by every landowner and tenant in England.
We are lucky that a very comprehensive set of parish records for Hedgerley are preserved in the Centre for Buckinghamshire Studies in Aylesbury, covering every year from 1695 to 1827 with only a few gaps.
These record the amount due from each ratepayer each year. This not only allows us to estimate the status in society of individuals but by converting the figures back to the nominal rateable value it is possible to identify how a family's wealth changed over time.
The rates William paid are consistent with the term he applies to himself in his will - a Husbandman, or, as we would call it, a small tenant farmer. His landholding would have been about twenty acres.
While this would have provided subsistence for William and his family he would probably have had additional sources of income as well. He would most likely have worked for cash wages from the lord of the manor when seasonal work was available but we are unlikely to ever know if he had any specialist agricultural skills.
We also cannot tell where his home and property were within the parish although some later circumstantial evidence suggests a site at the southern end of the parish near what is now Hedgerley Hill.
We do know that he served several times in the three parish offices of Churchwarden, Constable and Overseer of the Poor. In a larger parish each role would have been filled separately but in Hedgerley at this date all three offices were filled by one rate payer for a one year term with each rate payer taking a turn every few years. William served in 1699, 1709, 1716 and 1723 although in 1723 he wasn't churchwarden.
Following William's death in 1732 his place as rate payer is taken over for two years by his widow Sarah which is consistent with her appointment as executor of his will. However from 1728 William's place in Hedgerley society is taken on by his son Thomas.
We cannot be certain how old Thomas was as none of William's offspring were baptised as children. Thomas and his brother John were baptised as adults in 1719, the first of over 40 Blinco's to be baptised in the 12th century font which is still in use in Hedgerley church today.
The current Hedgerley church was built in 1852 but the font from the old medieval church was preserved. It has been used for the baptism of over forty Blincos. This picture was kindly provided by the Hedgerley Historical Society.
We do know however that Thomas was already married with several children. In 1727 he, his wife Anne and their children had moved back to Hedgerley after a spell living in the nearby market town of Beaconsfield. Again one is left wondering if he had a trade other than farmer but evidence of this is unlikely to survive from such an early date.
Once settled in Hedgerley Thomas served as his father had done as Constable and Overseer of the Poor in 1739 and 1748. His tenure as head of the family also sees an increase in the rateable value of the family farm in 1738 as he takes over a small tenancy known as Ridley's from one Edward Chilton.
Thomas appears in the rate books up until 1755 when there is a seven year gap in the records. When the records resume in 1762 Thomas youngest son Moses has taken over the farm. This seems a little surprising given that Thomas lived until 1773.
As Thomas did not have a will proved in the Archdeaconry courts as his father and sons did it seems likely that his wealth and property was dispersed within the family by private agreement while he was still alive. We can only speculate as to the reason. Had Thomas become mentally or physically incapacitated in some way or had he simply chosen to settle his affairs and take a well earned retirement?
Either way the stage was set for a rather more dramatic chapter in the Blinco story during the next generation.
Martin Taylor
Hertfordshire