More South American Blencowes
I'm Roberto William Blencowe and I was born in Montevideo, Uruguay and my son, William Robert Blencowe in California. My father, Thomas Sydney Blencowe was born in 1917 at Croydon, London. He was in the Royal Navy during the Second World War. My grandfather, Thomas Horn Blencowe served in Africa during the Great War when my father was born. After the war my grandparents went to Argentina to work in the railroad business. My uncle, John Patrick was born in Cordobe, Argentina.
I have been all over the world including England and I have never met another Blencowe in person. I thought we were almost extinct! Can you hang us in the family tree?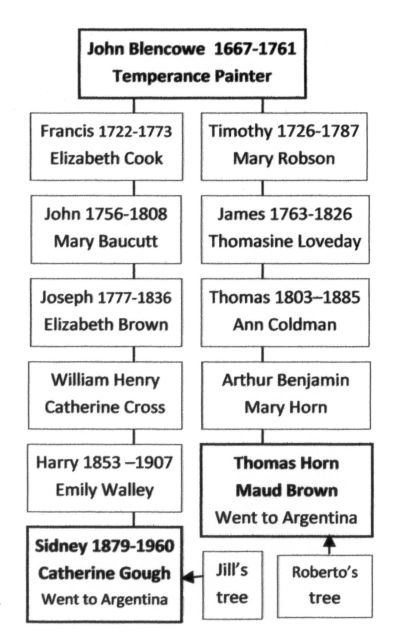 This letter came to me via Alan Blencowe who assured Roberto that becoming extinct is the last thing the Blencowes are going to do as we are well spread around the world.
I found it interesting that another branch of the family went into the railway business in Argentina. Having read Jill Dudbridge's story in the last newsletter, I have calculated that her father, Sidney Blencowe and Roberto's grandfather Thomas Horne Blencowe were quite distantly related, being 4th cousins once removed; their ancestors-in-common being John Blencowe and Temperance Painter. Insert Tree
The chances of their knowing one another would be quite remote. One wonders if they ever crossed paths in Argentina? Roberto's great, great grandfather, Thomas Blencowe (1803-1885) was born in Brackley, became a master shoemaker and by about 1830 was living in Peckham, Camberwell London and his descendants lived in the Dulwich/Croydon area, whereas Jill's family were from Wiltshire. Roberto and Jill are now in touch and will be very busy exchanging notes and experiences. Anne