The Blinco family of Hedgerley: The next generation
Moses Blinco (the first of the name) was baptised in Hedgerley in 1736, the sixth and youngest child of Thomas Blinco and Anne Pettifar. As readers of my last article will remember, Thomas and his father William were 'husbandmen' or tenant farmers with a small holding of ten to twenty acres. Each in their turn had served in the parish offices of Constable, Overseer of the Poor and Churchwarden.
From 1762, when he was 26, we see Moses taking on his father's role in parish life while his father was still alive. This event coincides with Moses marriage to Mary Hoare in the nearby market town of Beaconsfield in February 1762. It seems likely that Thomas went into retirement to facilitate his sons marriage. Moses's two elder brothers, John and William, were already married and making their own way in the world in Wooburn (a nearby village) and London respectively.
For the next few years Moses status in society seems unchanged from that of his father and grandfather before him as he was paying the same level of parish rates although he did take on a small extra property known as Millers from one Thomas Dancer in 1768.
From 1769 an extra source of information becomes available to us as a rental survives in the estate papers of the Way family of Denham who were lords of the manor of Hedgerley at the time. This records that from 1769 until 1773 Moses paid rent of 15.0.0 per annum for two houses, one barn, a stables, yard and cottage plus nine pieces of arable land totalling 13 acres 2 roods and 37 perches.
However, in 1774, a major change occurs in Moses status. The annual rent paid to the Way family goes up to 50.0.0 and a year later to 55.0.0. The parish rate book records Moses paying rates for property described as 'late John Nellis'. This property measured 75 acres, 3 roods and 37 perches. By lucky chance a working document survives in the Way papers, probably in the hand of Benjamin Way himself. He writes:
1778 Moses Blinco told me he let the tenements at Hedgerley Green at £5.8.0.
One at £2.2.0
One at £2.0.0
One at £1.6.0
Tenements on the Green at 4.10.0
One at £2.10.0
One at £2.0.0
One at Hedgerley Dean
£2.0.0
He rents beside one hundred and twenty acres of arable, meadow and woodland at 58.2.0 per annum. Average 0.9.2 per Acre certainly worth 12 s perhaps 15.
A further note on the other side of the page which may be earlier reads:
Item: Thomas Slaughter offered 50 per annum for John Nellis Farm only when I had let it to Moses Blinco.
One final note records 'Blinco cottage pulled down'
So it seems that Moses had got himself a bargain, both in the eyes of his landlord and his neighbours. He also, we can assume, had moved on from the cottage which had been his family home for three generations. A few years later the parish rate book starts to refer to the Blinco property as 'Manor Farm'. There is still a house named Manor Farm at Hedgerley Green today so it seems likely that this was the family home from this date onwards.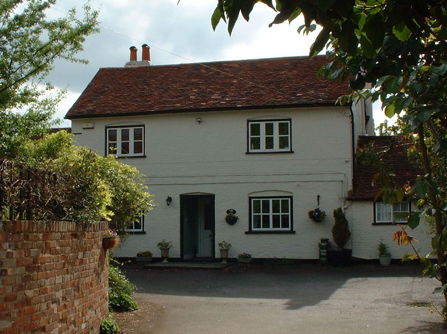 Manor Farm Hedgerley
Manor Farm was the home of the Blinco family from 1774 until c. 1840. Today it is a grade II listed building and is still a private residence although it is no longer a working farm.
How had Moses funded this remarkable transformation in the family's fortunes? In his will which he wrote in 1799 he speaks of his 'business going to London' and in the 'Posse Comitatus' of 1798 (a government document which records all adult males and all horses in the county) he is recorded as owning six horses, one wagon, one cart and two dung carts. With horse drawn road traffic being the only means of transport from Buckinghamshire to London at the time there was a potential to build a thriving business as a 'carrier'.
We can presume that Moses business carried not only the produce of his own farm to the London markets but also those of paying customers from the neighbouring towns and villages. It is likely that he also carried back manufactured and imported luxury goods for sale in the Hedgerley area, collecting fees for each load he carried from the owners of the goods.
We should also note that Moses second marriage took place at St Olaves church in Southwark in 1775. Moses brother William had been resident in the same area until his death in 1769 and his nephew another William (son of his brother John) is recorded as a 'corn porter' in Southwark in 1791.This location was close to Borough market which was one of the main food markets for the London metropolis so this may well have been the market the Blincos carried produce to.
Moses served almost continuously as churchwarden of Hedgerley from 1789 to his death in 1807. With a family of five growing sons to run the carting business and help run the farm and several of his daughters married to other farmers in the district we can see him as a leading figure in the local community. This is reflected by his burial which took place in a prestigious location close to the door of Hedgerley church. This marked the high point of the Blinco family's two hundred year association with Hedgerley. The story of his sons and grandsons is that of the family's dispersal to the neighbouring parishes and beyond.
Grave stone of Moses Blinco
Moses' grave is in a quiet corner of Hedgerley churchyard just to the right of the gate. The present 1850's church was built a little to the north of the site of the old church so in Moses' day this would have been a prime site on the path from the gate to the church door. The inscription is badly worn but is still readable in a good light.
Martin Taylor
Hertfordshire, UK