Notable Blenko: William J. Blenko 1854 – 1933
Founder of the Blenko Glass Company: a family owned and operated company since 1893
In Hackney, London on 8th Dec. 1854 William John Blenko was born into a working class family. His father, Thomas was a whitesmith, a skilled worker in polished iron. Unlike his brothers, who followed their father, William became interested in glass adornment. Encouraged by his mother, Mary, he apprenticed himself at age 10 to a glass craftsman working in a nearby bottle factory.
Having learnt the basic skills of glass blowing at the factory he attended night school to study chemistry. Through a friendship with a blind Frenchman, William became quite fluent in French, the language of the medieval glass treatises, and was able to delve into French textbooks. He was fascinated with coloured glass used in stained glass windows and eventually his skill as a maker of mouth-blown stained glass gave him a degree of recognition.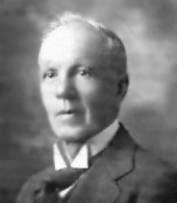 William dreamed of 'becoming his own man'. He saw great possibilities of success in America where the puritan traditions of austerity in church architecture were gradually giving way to ornament and beauty in the buildings. There was as yet no handmade stained glass industry in North America and artists and architects were forced either to use cheap machine made 'cathedral glass' or import the real thing from continental Europe or England – quite an expensive exercise. The market appeared to be worth about a quarter of a million dollars annually, about one-third being spent on the purchase of the glass itself; he was confident that he could carve out a niche for himself in the U.S.A. So aged 38, he went to New York to experiment with the wonder fuel natural gas. Hearing that this fuel was abundant around Kokomo, I.N., he went there and started one of America's first gas-fuelled operations.
The Kokomo Dispatch of 23 Jan 1893 reported:
'William Blenko, an English glass manufacturer, has come to Kokomo, bringing with him the machinery for establishing a plant for the making of cathedral and other glass. The Patterson Realty Company has given him a site on the Belt railroad near Defenbaugh Street and the erection of the factory is already underway.'
William quickly completed the 20 x 40 foot workshop himself.
William was soon producing glass but it would not sell. The American window makers would not accept his products, although it was made by Old World methods. There was a natural prejudice against a domestically made glass. The stained glass studios were European and wanted European glass.
He encountered a recession and being discouraged by this he decided to return to England and export the same product he was making in Indiana. He returned to Indiana in 1899, and started a trans-Atlantic shuttle that would end in Milton, W.V. 23 years later.
He chose the little farm town of Milton because the Industrial Development Dept. of the Chesapeake & Ohio Railroad sold him on the idea of Milton as a good place to work. It was a dependable source of sober, industrious labour. Also the natural gas, used in all the glass furnaces, was cheaply priced. In the spring of 1921 William arrived in Milton where he soon began unloading the tools of his trade into a small hillside barn. He went to work building a furnace, with the help of a newly recruited crew of locals. Within a few weeks, glass was being made.
In 1925, his son, William H. Blenko and his wife Marion, daughter of Henry Hunt of Hunt Stained Glass Studios in Pittsburgh, came to Milton to help his father in the day to day operations of the factory. Needing still larger production areas and better shipping facilities, the Blenko works moved to their present location near the main line of the C&O Railroad across the river from Milton.
During the depression era William became aware that there would be a need to expand the product line to more than just stained glass. So in 1929, he secured the services of two Swedish Glass Craftsmen. They trained the Blenko crews to craft beautiful pieces of glass by hand. Production increased and in 1930, the company changed from Eureka to Blenko Glass Company, and so came the tableware line of glass products that have made "Blenko" a household name all over the world.
William J. Blenko died in 1933, and William H. Blenko Sr. took over the larger responsibilities of the company. He became the President, and presided over the steady growth his father had experienced for 30 years. William H. Blenko Sr. died in 1969. Marion Blenko worked seven days a week from 1923 until her death in 1989, as treasurer, secretary and retail sales manager. Their son William H. Blenko Jr died in 2016. Walter John Blenko, grandson of the founding William now serves as the company's president.
The descendants of William John Blenko strive to continue the time-honoured tradition of exquisite colour, skilled craftsmen, and the imaginative designs that have made Blenko famous in the time-honoured craft of hand-blown glass. In a world of ever increasing automation, Blenko Glass prides itself in paying particular attention to the forms and designs of their hand crafted products.

We all need, now more than ever, hand-made possessions which are unique and inspiring. I certainly treasure my piece of Blenko Glass.