Flaunting the Rules of Heraldry
It seems we have been doing this for centuries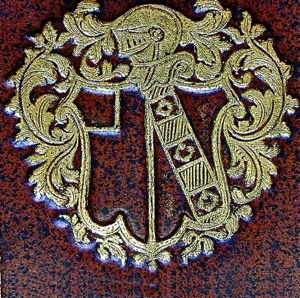 This is a stamp from the University of Toronto Library. It belonged to Henry Blencowe of Blencow Hall who died in 1721. It cleverly shows the Arms of John Blencowe plus a bend courtesy the augmentation of the Duke of Greystoke. The caption following backs up the scandal alluded to by Sarah Blinco in her article on Blencowe Hall.
Henry Blencowe of Blencowe in Cumberland was the son of Christopher Blencowe Esq. and Ann, eldest daughter and coheir of William Layton of Dalmain Esq. He married firstly, Dorothy, daughter and heir of George Sission Esq, of Penrith, who died on 29 October 1707, and secondly, Elizabeth, daughter of W.Todd Esq. of Wath in Yorkshire. He was High Sherith of Cumberland in 1717. The augmentation of honour is interesting as it is not from a royal grant. Adam de Blencowe had served Lord Greystoke in the French Wars as his standard bearer, and in 1357 Lord Greystoke granted him the right to bear a bend of the Greystoke arms, Barry of six argent and azure three chaplets gules, as a coat of augmentation.
Sir Henry Blencowe (1562-1635) refurbished Blencow Hall and in 1590 had four stone shields carved above the entrance doorway to Blencow Hall; two of these were arms of families into which the Blencowes had married, the other two were the original Blencow arms and the arms granted to Adam by Greystoke.
During the early 17th century the Herald, Sir William Dugdall, made a Visitation; he refused to recognise the Blencowe entitlement to bear the Greystoke arms; he ordered them defaced immediately because they had not been awarded by the king. You can clearly see the defacing of the very top shield.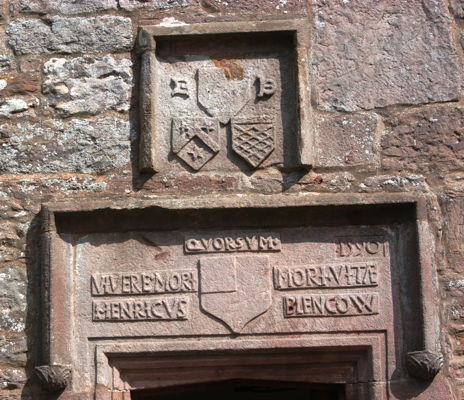 It is significant that the original arms were permitted to remain, recognising Henry's lineal descent from the original armiger. At a later date the family incorporated the Greystoke device into a shield as an 'augmentation' to its ancient arms.
So Henry's stamp was not legal however, he probably got away with it. How many of us have used a coat of arms on stationery of as an adornment when really we have no right to do so!