Notable Blencowe: James Rasdall Blencowe: 1871-1945
James Rasdell Blencowe was a photographer who operated in Rotorua, New Zealand between about 1901 and 1938. His studio was in Arawa Street and he mainly took tourist shots, which were turned into postcards and pictorial booklets promoting Rotorua as a tourist destination.
Biographical information
James was born in Carlton, a suburb of Melbourne in 1871 to John Thomas Blencowe and one of his several wives, Mary Hennan, nee Rasdall. In 1896 he married Ellenor Maude Young in Australia before moving to New Zealand. She seems to have been from a local Rotorua family. He worked as a carpenter initially, before setting up his photography business, and his wife Ellenor ran the Sonoma Private Hotel in Pukuatua Street from about 1907 to 1911. His wife was involved in croquet and Scouts; James was involved in bowling, golf, freemasonry and was a member of the Rotorua Chamber of Commerce.
In 1918 Mrs Blencowe survived the wreck of the SS WIMMERA which floundered off Northland on its way from Auckland to Sydney. She went ashore in a lifeboat probably at Tom Bowling Bay near Mangonui in Northland.
In about 1941 James retired to Auckland but returned to Rotorua in 1945. Six months later he died and was buried at Rotorua cemetery. Ellenor continued to live at Ngongotaha until her death in 1953.
Work
He operated as a photographer from at least 1903 to 1938. As well as postcards he did more journalistic images which appeared in the Auckland Weekly News in the first decade of the century.
James depicted the cultural experiences offered in Rotorua including the Guides and popular tourist spots. He also took some important photographs of the Te Wairoa settlement in the years after the Tarawera volcano eruption, including the Mill, Te Mu, the Terrace Hotel, and Te Keepa's whare.
Rotorua Museum holds about 160 prints, postcards and booklets attributed to him. Of the six glass plate negatives held at Rotorua Museum, five are full plates and one a quarter plate.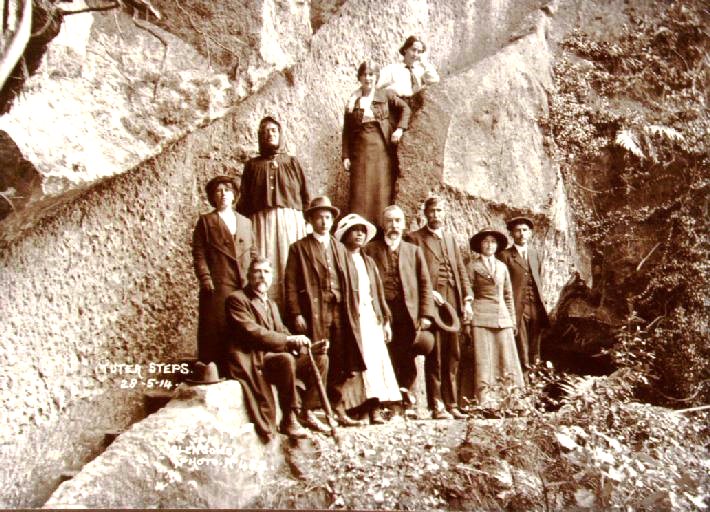 His glass plate negative collection is in private hands but further research may be possible.
His full plate camera was gratefully purchased by Rotorua Museum from UK camera collector, Cliff Bulcock, in 2008 a few years after he bought it from an antique camera shop in Mangere. It had been purchased in Melbourne, and it dates from around 1880-1910.
Rosemary Deane, Collection curator, Social history, Rotorua Museum, 20/10/16
Ms Deane would appreciate a photo of James for the museum if one exists.
Recently for sale online: 56 Choice Photographs of Rotorua: the Wonderland of New Zealand; Published by Rotorua : J. R. Blencowe and E. Le Grice, 1950.