Convict Heritage Revisited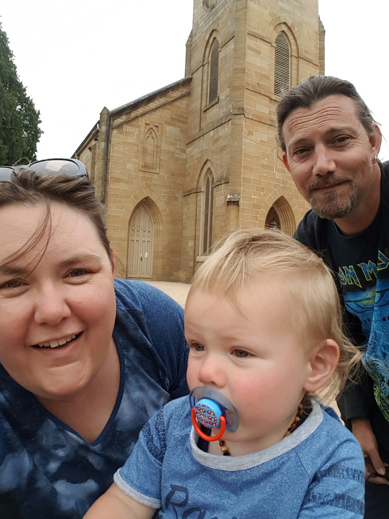 Convict John Blencowe's 3x Great Grandson Adrian H, 4x Great Grandson Archer and his Mum Amanda at the church in Longford where John was married to Elizabeth Horner in 1846. While they were in Tasmania recently, they found John's Convict Brick and visited the Woolmers estate where John served out his time. Adrian's grandfather, Clint H. was disappointed that he was unable to make the long trip.
In August, Christine F. from England is making the pilgrimage to Tasmania to follow in the footsteps of her ancestor, Convict Thomas Blencowe. She will be staying at Brickendon.
Brickendon and Woolmers Estates are adjacent farming properties in the Australian National Heritage and World Heritage area, as part of the Australian Convict Sites World Heritage Area.
However, no trip is complete without visiting Port Arthur's Penitentiary, the scene of many atrocities.