Migration to the USA and Canada was less arduous than to the Southern Hemisphere but still came with the wrench of leaving behind friends, family and a familiar lifestyle.
The Elora Blinco Family Descendants
John Blinco, 1789-1870 and wife Ann Cole 1793-1870 from Mixbury, Oxfordshire arrived in America with their family in 1845, spending a year in Buffalo before farming in Guelph, an Ontario township for three years before settling in Pilkington (later named Elora). The family probably arrived with little more than what they could carry in a sea chest. They knew nothing about bush life so had to learn. Neighbours were many miles away and money was short and roads non-existent.
Their two sons, George and Harry had come to Pilkington a year earlier with the rest of the family following. This destination was not selected at random as many from their home area of England had already settled there. Being a small isolated community there was a number of inter-marriages between families.
For example from John and Ann's offspring; George married Elizabeth Stockford, Mary married Richard Stockford. William married Elizabeth Beal, Eliza married Willam Beal. The Beals were also from Mixbury. Emma married John Ariss and John married Ann Ariss.
By 1851 each Blinco family had its own single-storey log home usually built by the man of the house with the help of a neighbourly "house raising bee".
By 1861 the families had grown considerably and the lack of schooling in the area was noticeable. Yet by 1871 Elora had developed from a pioneer settlement of 25 houses to a considerable town with 41 businesses and 2 schools and 2 banks. Our family was flourishing, mostly in farming ventures.
By 1881 a number of the Blinco family had died or moved away, some to the USA. Elora Municipal Cemetery has 25 Blinco's buried on its grounds.
Henry Blinco, Ed's great grandfather, Ernest's brother worked for 40 years as a purchasing agent but also known in Niagara Falls, NY politics for serving on the Board of Education and elected to the City Council.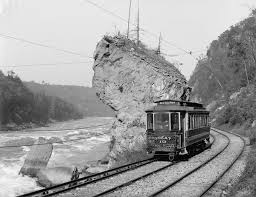 Ernest Blinco (great grandfather) was an electrician and also worked on a trolley on the Great Gorge Route along the Niagara Gorge between Niagara Falls and Lewiston. This same trolley was ridden by US President William McKinley, his wife and entourage on 6 September, 1901 a few hours before he was assassinated at the Pan American Exposition in Buffalo. On occasional train stops, Ernest would play checkers with a Tuscarora Indian named Garlock. After Ernest's passing, one day Lily answered a knock at the door and was surprised to find Garlock who had found their home and was looking for a game.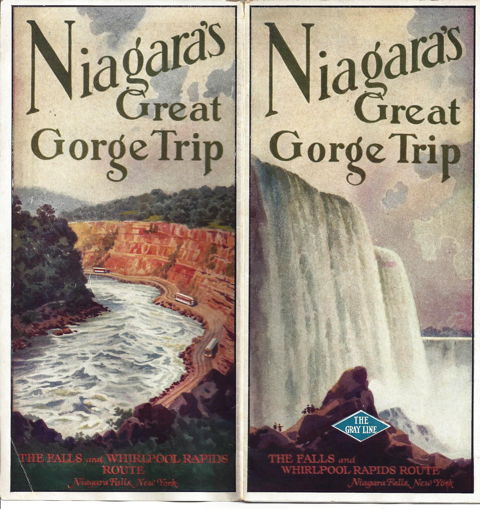 The Great Gorge Railway Trail follows the path of the former "Great Gorge Route" of a railroad that once carried passengers from 1895 to 1935. The railroad had numerous names. The Niagara Falls and Lewiston Railroad took only 75 days to build in 1895. The railroad instantly became a huge attraction, almost bigger than the Falls themselves.
Over the years there were numerous accidents and other events that marred the railroad.  Finally on 17 September, 1935 at 2am over five thousand tons of rock fell on the railroad bed destroying over 200 feet of track.  The track was never repaired and railroad operations immediately shut down.
As you walk down the trail you'll notice the gorge walls and may wonder how more slides didn't occur.  Unfortunately many visitors to Niagara Falls miss exploring this amazing trail with spectacular gorge views and a unique look at the falls. Just take care and watch your step as parts of the Gorge Rail Trail are quite steep.