A Generous Benefactor: Michael Blencowe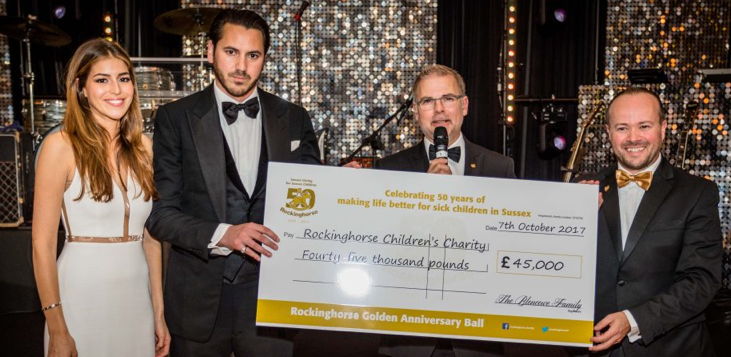 The ROCKINGHORSE Children's Charity smashed through its £500,000 appeal target as they celebrated their Golden Jubilee at The Grand Hotel in Brighton.
The Rockinghorse 50th Anniversary Ball played host to over 400 of the charity's supporters who helped celebrate their milestone year. The charity launched its 50th anniversary appeal 'Sussex Giving for Sussex Children' last October with the aim to raise half a million pounds. £112,000 was raised at the Ball; the total was reached thanks to an additional generous donation by local businessman, Michael Blencowe and wife Sarah on behalf of the Blencowe family, who presented the charity with a cheque for £45,000 at the gala event. This has enabled Rockinghorse to reach its £500,000 target two months before the end of the year.
As the official fundraising arm of the Royal Alexandra Children's Hospital in Brighton, Rockinghorse raises money to make services stimulating, cutting-edge and accessible for the many babies, children and young people who need them.
So who is Michael Blencowe?
Michael Blencowe is the eldest son of Richard Blencowe and his wife, Nazila Karimi. Richard, formerly of Nuneaton, was a Property Developer from Brighton, England. He was residing in the USA when he died in 2011 aged 52 years. He left sons Michael, Martin, Monty and daughter, Phoebe.
At that stage Michael was listed as a Property Investor of Hove and Nazila as Property Manager of Brighton. Second son, Martin, of Hove is also involved in the family company.
Since the death of his father, Michael has taken on the role of Property Developer and runs a Real Estate Agency.
It is a credit to the family that they have carried on since the loss of Richard, obviously continuing in a very profitable manner.
No doubt Clive and Angela are very proud of their grandchildren's very generous gift to charity.
Marilyn Astle,
Canada
https://www.charitytoday.co.uk/golden-goal-reached-rockinghorse-gala-ball/