Jordan's Mount Kilimanjaro Challenge
One can only wonder at the shock the young chef at the Whately Hall Hotel experienced in May 2016 as he realised he'd be catering all weekend for a room full of Blencowes from several countries. Having Jordan providing for us certainly added a pleasant family touch to the reunion.
Our Chef, Jordan was born and bred in Banbury and lives in Bretch Hill. He is busy preparing for a gruelling walk on Mount Kilimanjaro later this year in aid of Katharine House Hospice. Being local to the area, he has personal knowledge of the fantastic care the hospice provides, so Jordan Blencowe hopes to raise funds for the hospice by trekking to the top of Africa's tallest mountain at nearly 6,000 metres above sea level in July.
The 23-year-old cook at The Whately Hall Hotel likes to keep fit but has never taken on a challenge like this before. "I've never done much climbing or walking, I've never been up a mountain, so I'm completely out of my comfort zone but I'm sure it will be fine," he said.
Jordan decided last year to do some sort of physical challenge for charity. After spending time searching for an activity of considerable difficulty, he chose the Kilimanjaro climb. This will be his first ever mountaineering experience. The expedition will involve trekking through multiple micro climates, tackling altitudes of 5895m and camping on the mountain for 7 nights. Temperatures can range from 27°c at the base to -25°c ice caps at the summit. As it promises to be both physically & mentally challenging, he is allowing himself plenty of time to prepare. 
Jordan decided to walk in aid of Katharine House as the hospice has supported his family in the past. "I've had a couple of family members pass away in recent years and I've always been a support of the hospice as have my family so I considered it a deserving charity to walk for." Jordan's family think he is 'a bit crazy' but they have been very supportive, as have his colleagues at the Banbury Whately Hall Hotel. He has been going on long walks along the canal to prepare for his trek, which he begins on July 25.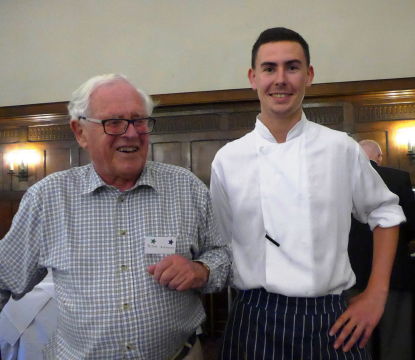 Peter and Jordan Blencowe in 2016 at the Whately Hall Hotel Reunion
 Who would have thought that when Peter Blencowe introduced Jordan Blencowe to us that these two men would have more than a surname in common? In 1956 Peter scaled Mount Kilimanjaro and signed the book at the summit.
Have any others attempted to climb it to the top in the intervening 62 years?
We wish you every success, Jordan. It will be a wonderful experience and your effort to raise £4,500 with this challenge is admirable.
Reference: https://www.banburyguardian.co.uk/news/banbury-chef-preparing-for-kilimanjaro-challenge-1-8402632
Roger Davis
USA