A Notable Blinco: Lloyd Stanley Blinco 1908-1981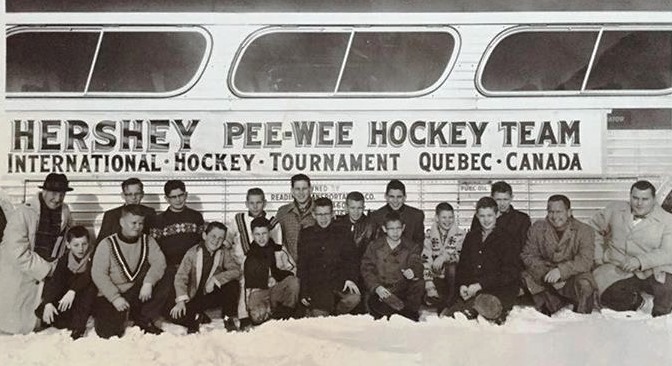 Lloyd on left
 Born in the small village of Grand-mere, Quebec, Lloyd began hockey at a very young age. His mother, Maud, organized, outfitted, and coached the youth team in the days when you had to ski or skate to practice. He attended Bishops College and became a scholar-athlete, having been named on the honor roll as well as being selected captain of the football, cricket and hockey teams.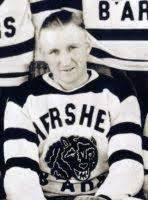 Lloyd and his brother, Russell traveled to New York, NY to join the Crescent Amateur Hockey team in the Brooklyn Ice Palace. As Dad would tell the story, "You should have seen the rink; it was an old garage and had cement posts covered with matting. You'd come down the ice, see what side of the post the other guy was on, and then try to fake your way past the post and the other player. It's a wonder no one was ever seriously injured."
In 1932, Lloyd was recruited to play for the Hershey B'ars in the Hershey Ice Palace, Hershey, Pennsylvania by the late chocolate magnate Milton Hershey. Thus began his career in Hershey that would span the next 40 years. The Hershey B'ars first played in the Tri-State Hockey League before entering the Eastern (Amateur) Hockey League. Hershey, with Lloyd as captain, dominated the EAHL until 1938 when the B'ars (became "Bears") and joined the professional American Hockey League (AHL).
He retired as a player but went on to coach the amateur Hershey Cubs as he continued to work for the Hershey Corporation. In 1950 Lloyd was named general manager of the Hershey Bears and assumed the executive position of president of hockey in 1962. Lloyd was named the league's outstanding executive and awarded the James C. Hendy Award for the 1968-69 season and remained president until his retirement in 1973.
During his tenure as Bears manager and president, the Bears won 4 Calder Cup championships, giving him a total of 7 championships while a part of the Hershey organization.
Lloyd was the first person from ice hockey inducted into the Pennsylvania Sports Hall of Fame in 1969 and first inducted into the inaugural Hershey Bears Hall of Fame in December 2012
Diane "Bunny" Blinco Yorty
USA