John BLENCOWE, Private 7780 'B' Company,
1st Battalion, & Northamptonshire Regiment
Aged 31, John was the first of our Blencowe family to perish in WW1 on 24th October 1914
In the November 2014 newsletter was an article about the Village of Norton, Near Daventry, Northamptonshire holding a service to mark the start of WW1. They are now about to commemorate the end of WW1.
In the Daventry Express 02/11/2014
"Norton residents commemorated the 100th anniversary of the deaths Private John Blencowe & Second Lieutenant John Litchfield, who were among the first Allied soldiers to be killed in World War One."
With the Commemoration of the end of the war coming up a villager from Norton, Tim Kirby wrote to me. He is researching our family in honour of our war dead.
"What a fascinating family you are all bound too. My interests are with the Norton Blencowes particularly John and his brothers as my hobby is Military History. We decided to commemorate the WW1 men by researching each one holding a remembrance ceremony and an exhibition which will be repeated again this remembrance weekend. The Parish council paid for a booklet to be printed for every house in the parish, a great way to remember all the men."
"Through my research, I first met David Blencowe of Kelmarsh who has provided me with much information including the photos and loan of Johns medals and plaque for our exhibition. I met some of the Piper family at the event held at the start of the war, which I have to say was the best turnout we have had at Norton."
Tim has provided the BFA with his comprehensive research on the Blencowes of Norton which will lead to an update of our database.
John was born in 1884 at Limerick, Ireland son of career soldier, William (b. 1851 at Brington) and Ann Sullivan (b. 1856 at Templemore, Ireland). At that time his father was Sergeant in the 64th Regiment of foot stationed at Limerick. John's Great, Great Grandfather, John who died at Nobottle in 1883 had fought at Waterloo.
When John's father, William (1851-1927) was 17, he enlisted into the 64th foot on the 29 November 1867 he was working as a labourer living in Nobottle, a hamlet near Daventry. He served in Malta 28 December 1869 to 27 March 1872. His regiment was then stationed in Limerick for the first time. William was obviously a good soldier as he was promoted Corporal 6 September 1870 and then Sergeant 10 November 1873 being transferred to Glasgow on the 11 May 1874. He was discharged at his own request on the 2 May 1876 on payment of a sum of 11.00 returning back to Nobottle.
William did not settle into civilian life and on the 23 September 1876 he re-enlisted back into the 64th foot Staffordshire Regiment, aged 25. Due to his previous 8 years service he was enlisted with the rank of Lance Corporal and stationed at Colchester. He was promoted Corporal 13 July 1877 but his career took a downward turn as on the 4 September 1877 when he was in arrest, his sentence was to be reduced in the ranks to Private.
His regiment was posted to Jersey, Channel Isles in September 1878 where he was again promoted to L/Corporal, Corporal then to Sergeant 29 October 1878. The regiment served in Jersey until 25 September 1879, when they returned home to England then to Ireland. It was in Templemore, Ireland where William married Ann Sullivan (1856-1905) on the 16 November 1880.
On the 9 June 1882 William was detached for duty as an Instructor 2nd class with the Gymnastic Staff. He was again to have a troubled career for a time and on the 3 March 1884 he was posted back to his Battalion for misconduct. While he was stationed in Ireland, John was born in Limerick, in 1883. Then in 1884, William, Ann and family were posted to Jamaica in the West Indies with his regiment.
Williams troubles continued and he was arrested again in June 1885 and reduced in rank to Corporal. William Joseph was born 6 May 1886, the family stayed in Jamaica until 16 December 1886 when they were posted with the Regiment to South Africa.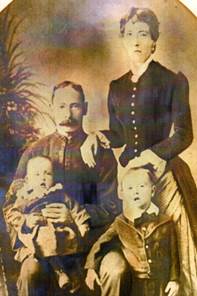 Photo 1887 Jamaica - William and Ann, with sons William 1 and John 3.
Earnest George was born in Natal 1888; again in October 1888 he was under arrest for drunkenness and reduced to the ranks, from Corporal to Private.
The family left South Africa for England in March 1890 and William was discharged at Gosport after his second term of engagement on 14 April 1890. He returned with his family back to Norton.
The 1891 Census shows the family were living in Norton, with John aged 7, William 5, Ernest 3, and Mary Florence 11 months. John had other brothers Fredrick James (1893-1954) and Albert Edward born at Norton as was Mary. Sadly Mary and Albert died young.
In the 1901 Census John is listed as working as a Servant-Groom and living in Norton Hall stables, and in the 1911 Census he is living as a lodger in Chester working as a Bootmaker.
John enlisted into the 1st Northamptonshire Regiment in 1905; Pte. 7780. As a pre-war professional soldier, he was one of the first to be sent to France with the British Expeditionary Force aka BEF.
Johns brother, William, was serving in Ireland with the Royal Horse Artillery and had taken an Irish wife, Mary Merlin. His younger brother, Frank (Frederick) was with the 12th Lancers. So the three brothers were already in the Army when war broke out.
John's Battalion were stationed at Blackdown near Aldershot part of 2nd Brigade 1st Division when war was declared. They were immediately mobilised as part of the old contemptibles after the Kaisers famous quip "a contemptible little Army" and landed at Le Havre on the 13 August 1914. A series of disastrous battles followed from August to September; the Battle of Mons, the Battle of Le Cateau, the Battle of the Marne and the Battle of the Aisne.
It was in late October and John had been in France for only 7 weeks when he was killed in action serving in B Company 1st Battalion on the 24 October 1914 during the Battle of Langemarck. This action was part of the First Battle of Ypres which started on the 14 October.
It is often said that the pre-war professional army died at the first battle of Ypres. The army had arrived in France with 84,000 infantry. By the end of the battle of Ypres, the BEF had suffered 86,237 casualties, most to that infantry. The French suffered around 50,000 casualties during the battle.
John is buried in the Perth Cemetery (China Wall), West-Vlaanderen, Belgium. Plot XII. Row C. Grave 3. He was only 31.
John was awarded the 1914 Star with clasp, the British War and Victory medals, memorial plaque and scroll.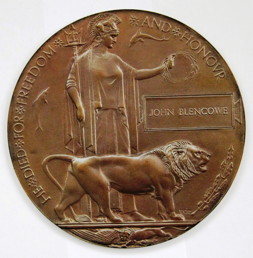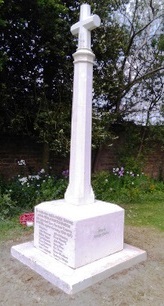 He is commemorated on the Norton War Memorial and Great War Memorial Board in the Church. As he was born in Ireland he is also listed in the Irish memorial records.
Johns brothers William and Fredrick/Frank are also recorded on the Great War Memorial Board in the Church.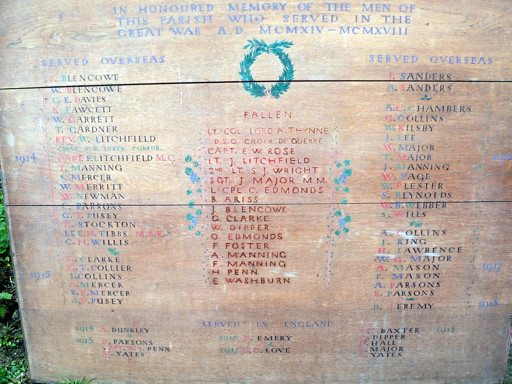 William Joseph enlisted into the RHA in 1902 at Woolwich aged 16 and served in Ireland where he met his wife Mary Merlin from Kildare who he married in 1910 at St Conleths Church,Curragh. He transferred to the Reserves in 1911 but was recalled at the outbreak of the war joining the 14th Brigade RHA as Gunner 37201 and entering France with the British Expeditionary Force on the 5 October 1914. He was awarded the 1914 Star, BWM & Victory Medals.
After the war William and Mary lived for many years in Norton with their children were Charles William, Florence, Kathleen, Albert Patrick and Lillian Brigit.
Fredrick James Blencowe, known as Frank was a Farm Labourer, who became a career soldier like his father, William Senior and brothers, John and William Junior.
Frank enlisted into the 12th Lancers on the 4 Sep 1911, at the age of 20. Service number 3590, 5/12th Lancers. He was sent to France 15 August 1914. Entitled to 1914 trio and clasps. Discharged 2 May 1919, reserve to 3 September 1923. Re-enlisted into Royal Tank Corps for 2 years on the 10 October 1924. Service number 312020 Royal Tank Corps. Discharged 9 October 1926. Frank never married and died in in Coventry in 1954 aged 61.
From recent research by Tim Kirby of Norton.