He flogged convicts for a living ......did one murder him?
The fight to save a pioneer's gravestone.
We have seen photos of Alfred Blinco's grave in the last two newsletters( Vol.24 No.1, Vol.23 No.4, and Vol.23 No.4). Meanwhile, the future of his brother Henry's grave has been a concern. Henry's grave is in an area earmarked for "renewal", i.e. removal of the headstone and opening up slots between the existing graves for new ones. Robert Wall's recently put together a submission to the Metropolitan Cemeteries Board in an attempt to save Henry's gravestone.
I think you will agree the following history gives ample cause for the retaining of the Blinco family gravestone.
Henry Blinco devoted his life to the Civil Service and was a pioneer of early Western Australia. He was father to eleven children and husband of two wives. Like his brother Alfred, (February newsletter) he left his home town of Hedgerley in Buckinghamshire, England for a new life in the colonies. Unlike his brother who migrated to Queensland, Henry and his new wife Eliza (nee Hinds) immigrated to Perth on the 12th September 1864 on the Merchantman. Misfortune struck the family in 1874 with the death of Eliza from Typhoid Fever and Influenza after the birth of their seventh child. With a large family to look after, Henry remarried to Martha Stallard, a Western Australian, born in early 1875. Their marriage was blessed with another four children; the last arrived when Henry was sixty years old. The Blinco family name is immortalised in Fremantle History. Blinco Street is located near Henry's home at Monument Hill.
Henry was born on the 11th February 1833, the second son and eighth child to Thomas and Elizabeth Blinco. His entry into the Civil Service, like many others started after he had turned 18 years old. Henry began his career as a policeman at Buckinghamshire before becoming a warder at HM Prison Chatham in March 1851. Henry and Eliza left England in July 1864 and arrived in Perth in September the same year. Henry was one of five warders accompanying 260 convicts from England and continued his career as a warder at Fremantle Gaol. One of his duties at the prison was to administer floggings to prisoners who misbehaved for which he received additional pay. Henry was promoted in 1873 to the position of Chief Warder of Fremantle Prison and by 1889 was the Acting Principal Warder before his retirement in 1898.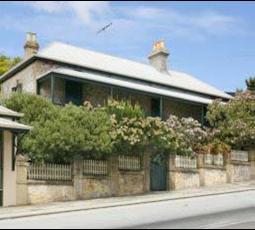 "Lenaville" Home of the Blinco family
Henry and his second wife purchased a block of land at 186 High St. Fremantle in June 1882. By 1885, Henry had built a home for his family. Given his position at Acting Chief Warder at the Fremantle Prison, it is likely that the house was built by convict labour.
The house was later extended in 1895 when he was 62 years of age. He remained at this property until his death in December 1907. The house was named "Lenaville" by its subsequent owner. The house still stands as a testament to the workmanship of the convicts under Henry's direction.
Henry shared many uncanny similarities with his brother Alfred. Apart from their similar appearances, they were both craftsmen. The lasting similarity is the design and origins of their headstones. Both brothers built them for their wives and children by hand.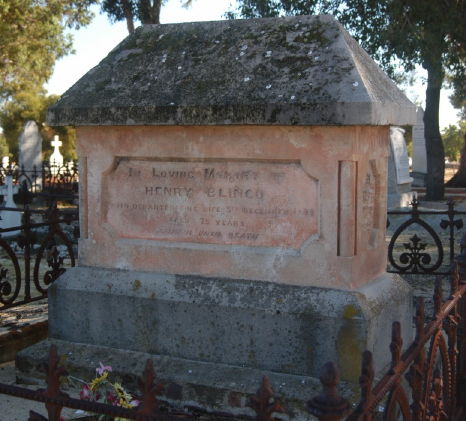 The Blinco tombstone the authorities want to remove
Both are rectangular monuments in family plots that suggest the designs are from family origins in England. Henry reunited his son George who was originally buried on Monument Hill at High St., Fremantle with his mother Eliza, and sister Eliza in 1874. Henry was buried with his wife Eliza and children George d Eliza beneath the headstone he made.
The circumstances of Henry's death are surrounded in controversy. According to his death notice in the West Australian, he died at what today is known as Blinco Cottage, at 18 Swanbourne Street. His family recalled his death at Fremantle Hospital from head injuries. His official cause of death was apoplexy; his family maintained that he was murdered at the hand of an ex-convict with a blow by an axe to the head. The latter account is supported by evidence stating Henry was found slumped at the kitchen table and of the neighbour who witnessed the absconding offender.
Robert Wallis
Western Australia
Well Roberts's efforts were worthwhile as feedback received from the MCB included the following: "Thanks for the follow up on what is truly an interesting story and family history. I have passed the info to a Board member who is chairing a sub-committee dealing with interesting monuments. A book is proposed and I hope the Blinco grave will feature. Beyond that the information will be retained for our next cemetery walk trail publication."
Surely this means his monument will be retained.
Anne
updated: 19 August 2009