Blencowe Pub Scene
Spotted by Marilyn Astle in the Bucks Free Press. dated 18 December 2009
The Mummers Play is performed at Chequers, Wheeler End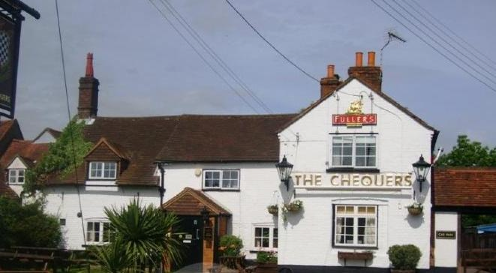 A play which has not been performed in Lane End for more than 60 years was brought back to life in a crowded pub on Wednesday.
The Mummers play, which is a folk tale, used to be performed every Christmas at the Chequers pub in Wheeler End until it stopped around 1947.
The tradition was discovered by a customer, in a book called The Sketches of the Buckinghamshire Countryside by H.Harman who then told landlord Peter Blencowe.
Mr Blencowe said: "It seemed like a good idea to get it re-enacted." He got in touch with the Lane End Players and asked them if they would perform at the pub. Mr Blencowe said: "It was great success - the pub was packed. People enjoyed it because it was old fashioned fun. "People were getting together and meeting and being part of the general ambience of the night."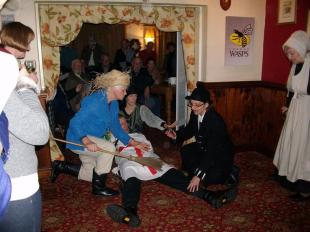 The Mummers play is a folk drama based on the legend of St. George and the Seven Champions of Christendom. After the performance everyone sang Buckinghamshire carols in four part harmonies. "It is part of the magic and mystery of the pub. The audience didn't know what to expect and neither did the cast. The pub was absolutely crowded with people and it worked out very well indeed."
updated: 5 May 2010