Helen Irvine Blincoe Simpson 1922-2009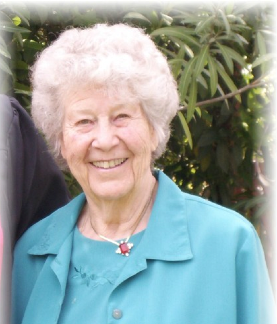 Helen Simpson passed away November 8, 2009, in Chula Vista, CA. She had been seriously ill for several months. Helen was born in Fort Scott, Kansas on July 18, 1922, the daughter of Ernest Edward and Frances Irvine Blincoe. Her husband of 63 years, Robert Sidney Simpson died a year ago.
Helen and her brother, Edward Irvine Blincoe, deserve special recognition by our Blencowe Families Association, as they were early pioneers in our family genealogy and in the establishing of our Association. Helen and Edward did much early genealogy research, started the Blencowe Newsletter in 1986, and organized our early reunions.
Our Newsletter was composed in and mailed from Helenís home in San Gabriel, CA for many years. Those two, Helen Simpson and Edward Blincoe, caused our separate family research projects to come together into the international organization and data bank that it has become. Our sincere thanks to Helen and Edward!

Helen is survived by 4 children, Richard Dale Simpson, Virginia Lea Hildebrand, Elizabeth Ann Kuropat, and Thomas Edward Simpson, by 4 grandchildren. and 2 great grandchildren as well as 3 siblings, Elizabeth Blincoe Flournoy, Edward Irvine Blincoe, and Robert Melville Blincoe.
Robert Melville Blincoe
updated: 5 May 2010