Swept off her feet by an exotic Prince Charming...
...and lived happily ever after?
Many of our daughters may have imagined themselves attached to Princes William, Harry or one from a different culture. Joyce Blencowe's dream of a royal wedding came true.
In 1938 the press of the world was captivated by their story as shown in the following articles:
The Sunday Express (London) 28 August 1938
SULTAN DEFIED PRINCE & GIRL
Fearing that he will virtually become a prisoner if he returned to Trengganu, an unfederated Malay State, Prince Mahmud, aged 20, who is engaged to Miss Joyce Blencowe aged 20, refuses to leave England, despite the orders of his brother, the Sultan that he should return unmarried at once.
Meanwhile the Prince's allowance has been stopped. The Crown Agents for the Colonies and the girl's father, an Oxford tailor, are also opposed to the marriage.
Prince Mahmud recently left for Malaya, but after a talk fro, Marseilles to his fiancèe he broke off his journey.
Now he intends to write to his brother explaining that he has acquired English habits and feels that since he has met the girl of his choice he could not marry a Malayan.
Prince Mahmud told the Sunday Express that he would rather starve than return without Miss Blencowe as his wife. He said that he would attain his majority in May and then he could please himself.
The Argus (Melbourne) 30 August 1928
HAS ONLY £2
Prince Mahmud, who said he would rather starve than return to Malaya without Miss Blencowe as his wife, has only £2 and is entirely dependent on his friends at Oxford where his fiancèe lives.
He has defied the Sultan's order that he should return home unmarried at once.
"I have been offered a job as a chauffeur at £20 a week", he said, "but I refused in hope that the problem will be amicably settled. If the Sultan does not unbend I am prepared to roll up mu sleeves and work for my happiness"
Such a show of devotion — no wonder Joyce fell madly in love.
Joyce Blencowe
from an American paper
Prescott Evening Courier 1 June 1939
DAUGHTER OF TAILOR NOW A PRINCESS
The pretty daughter of an English tailor became a Malayan princess today when she married Prince Mahmud of Terengganu at St Giles registry office, Oxford. The bride, 21 year old Joyce Blencowe, a chiropodist and the bridegroom, brother of the Sultan of the unfederated Malayan state, received many wedding gifts from well wishes attracted by their story book romance. The young man, an Oxford student, had disobeyed his brother's orders to "return home immediately and unmarried" when the romance first blossomed but was believed to finally have overcome his family's objection to the marriage.
Joyce and the Prince had three children. YM Tengku Andrew Clive Cyprus bin Tenghu Mahmud (aka Andrew Clive Cyprus) was born in Oxford 13 October 1940. Sisters Afzan Joy Elizabeth and Angela followed.
Princess Joyce Mabel Blencowe was born in Oxford in 1917 She died on 9 June 1996 and is buried at Taunton Cemetery, Somerset. Her family is shown next.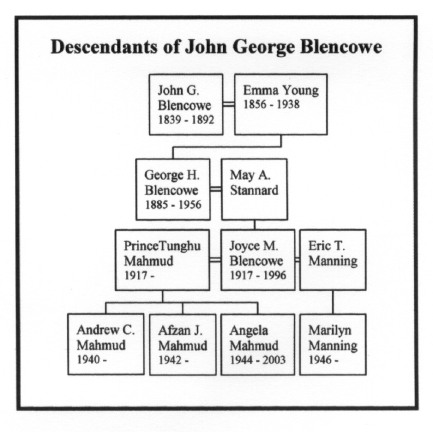 Sadly the dream faded. Soon after her divorce in 1945 from Mahmud, Joyce remarried to Eric Thomas John Manning. The 3 children took Manning as their surname after adoption. Eric and Joyce had a daughter, Marilyn.
The Prince had more children and one newspaper wrote of Prince Andrew trying to claim his birthright as the eldest son of Mahmud.
Afzan married but appears to have had no children, whilst Angela returned to her father's land and has one daughter.
Submitted by Ruth Jenkins, Suffolk
updated: 5 May 2010