Searching for Samuel: My Blencowe Brick Wall
Ancestry's London Parish Records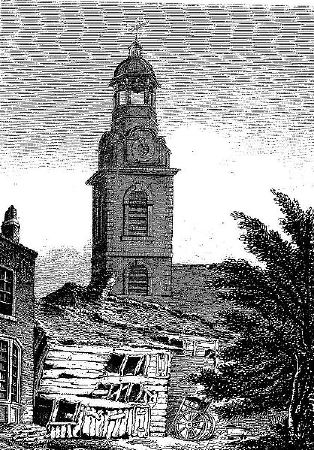 Christ Church, Southwark
The London Parish Records available on Ancestry.com recently provided records for two events I knew about from Jack Blencowe — the marriage of my ancestors Samuel Blencowe and Ann Poole in 1812 and the baptism of their son. The marriage occurred 12 August at St Pancras Parish Church in the Borough of Camden. The February 2009 issue of the Blencowe Newsletter includes a photograph of the church from my 2008 visit.
The baptism of the couple's son (my 3rd great grandfather) William Henry, occurred 31 January 1813 at the City of London Lying in Hospital, Parish of St Luke, with no age or birth date given. This was one of several maternity hospitals founded in the mid 18th century in London. "These hospitals were principally intended for the 'wives of poor industrious Tradesmen or distressed House-keepers' and the wives of soldiers and sailors." The family's abode is recorded as Stanmore and Samuel's occupation as servant. In 1879 when the widowed William Henry remarried he gave his father's occupation as valet.
I also found a new record — a burial on 17 April 1816 at Christ Church, Southwark for Samuel Blencowe aged 30. His abode was given as the workhouse. The Ancestry site did not reveal any additional children of Samuel and Ann or a burial for Ann. The searchable births and baptisms cover the period 1813-1906.
Google Mapping of London Sites
Google Maps shows a distance of 2.6 mi (walking time 53 minutes) from St Pancras Old Church, site of the Samuel Blencowe marriage, to Christ Church, Southwark, the burial location. The route is via Gray's Inn Road, over Blackfriars Bridge and along Blackfriars Road. The bridge was opened in 1769.
The City of London Lying in Hospital, founded in 1750, was relocated in 1773 to City Road in the parish of St Luke, Old Street, now in the London Borough of Islington. There is a Stanmore Street in Islington about 5 miles north of the hospital location and an area called Stanmore, 13 miles northwest. While logic suggests the nearer location, the clergyman performing the 16 baptisms recorded on the double page wrote "St." or "Lane," as part of the other addresses or in two cases the names of ships. It thus seems it was the Stanmore area where the couple lived. Were they perhaps both servants in a home there? The hospital is 2.2 miles from St Pancras Old Church and 1.8 miles from the location of Christ Church in Southwark.
Parish Records from Chacombe, Northampton
A list of Samuel Blencowes from Jack Blencowe's Card Box database includes my Samuel (MC18 No 2858) with only his marriage noted. There is no other Samuel born about 1786 except the son of Samuel Jackson Blencowe and Ann Bree, christened 17 March 1784 at Marston-St Lawrence. Before my 2007 trip to Salt Lake City I found an IGI reference on the LDS Family Search site to the baptism of Samuel Blencowe, son of Nathaniel and Mary, in Chacombe, Northampton on 15 October 1786.
A search for 1786 +/- 10 years gave only one other hit, the previously noted son of Samuel Jackson Blencowe. Chacombe is a village about 3 miles NE of Banbury and 3.4 miles WNW of Marston-St Lawrence.
This was before I had any indication of a birth date for my Samuel; however, both his son and a grandson named children Nathaniel. The IGI entry was a member submission with no further information available. Searching the Chacombe parish records I found and photographed the baptismal entry. In another issue I will report on my study of the Blencowes in Chacombe. Finding no marriage or burial for Samuel in this parish and bearing in mind the adage "absence of evidence is not evidence of absence," I was encouraged that Samuel Blencowe of Chacombe could be my Samuel.
Tentative Conclusions and Further Research
Finding the burial record of Samuel Blencowe aged 30 in 1816 has increased my optimism that Samuel Blencowe baptized in Chacombe in 1786 is my ancestor. Further research options include learning more about the workhouse in which Samuel died and the Stanmore area of London. I am interested in hearing from anyone with Blencowe ancestors in London or Chacombe. All observations and suggestions for further research on Samuel Blencowe are also welcomed.
Marilyn Astle
Canada
Email: astle.marilyn @ yahoo.ca