An old photo links more families to the 'Mixbury lot'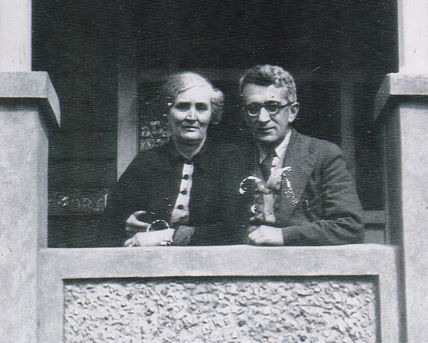 Margaret Blencowe of Tumbarumba was going through old family documents and photos and came across this photo of her parents-in-laws, Robert Benjamin Francis Blencowe (1890-1960) and his wife Nina Cayirylys (1883-1975). Robert was the first of his family to be born in Australia.
The first member of this branch of the family to migrate from Brackley, Northamptonshire was Joshua Benjamin Blencowe (1837-1890) son of Benjamin Robert Blencowe (1807-1895) and wife Eleanor Hargrave (c. 1811-1883).
Joshua's brother, Robert (1848-1941) followed out and settled in Tumbarumba with wife Caroline (1866-1939) and they are the Grandparents of the Robert in the above photo.
Joshua and Robert's sister, Eleanor Hargrave Blencowe (1834-1918) settled in Sydney, Australia after the death of her husband, Joseph Painter who is buried in Mixbury, Northamptonshire along with two of their four children.
I have never thought much about this connection of the Brackley family to the Mixbury family even after seeing members from the USA and New Zealand going out to the Mixbury Church during the 2016 reunion in Banbury and cleaning up the family graves.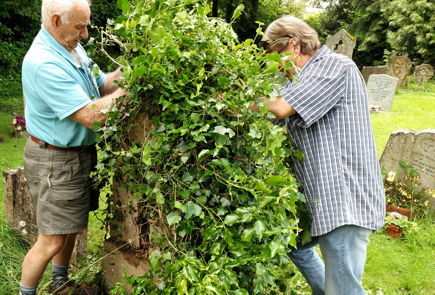 Colin & Richard Hinks hard at work looking for our family graves
One now has to wonder how much further the Brackley/Mixbury connection goes.
The caption on the photo reads, "Robert & Nina verandah 'Mixbury,' Tumbarumba." I suggest that probably the Blencowe family spent more time in Mixbury than their records show. To name the family home, 'Mixbury,' shows a possible closer emotional attachment to that place than to Brackley.
It is a timely coincidence that the upcoming reunion at Niagara is being hosted by a branch of the family who migrated from Mixbury.
Both New Zealand and Australian members with the Mixbury connection will be going to the Niagara Reunion.
Margaret Blencowe,
Tumbarumba, NSW, Australia