A Blinco-Swartz-Cave in Hershey, Pennsylvania
My father, Edward S.Swartz, was raised on the farm adjoining Indian Echo Caverns just south of Hummelstown, PA. He even played inside the cave as a boy before it was commercialized in 1929, the year he graduated from high school.
As a businessman in the 1930's my father developed an interest in having country and western shows to live audiences with all of the associated food stands and games. After several years of renting various locations, he understood that in 1942 Indian Echo Cave was "for sale" due to business failure. My parents purchased the property that year with the idea of having their own land. Although the commercial cave was located on the property, it wasn't until the 1950's that they saw the real potential of what they had purchased. I would imagine this was the result of my dad taking the cave for granted as he grew up.
Along I came and worked in the family business until attending professional school. My parents willed the property to me and my wife Judy Blinco. So now a Blinco and a Swartz owns the tourist attraction known today as Indian Echo Caverns. My dad retired in 1988 so we started to manage the caverns. I say we because both of our daughters were involved too: Jennifer, who has since left, and Kimberly, who now manages the business. Very family proud!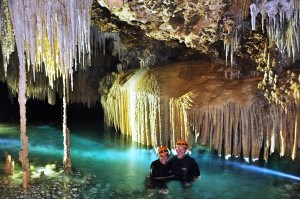 Edward Swartz, VMD